Smoked Turkey with Candied Pecans & Apple Stuffing
Let's talk turkey and how to take your traditional Thanksgiving feast to the next level of flavor! This recipe by Girl Carnivore uses Tony's to infuse flavor both inside and out, giving your bird the smoky kick it needs. With prep time under 30 minutes, you'll have more time for family and friends.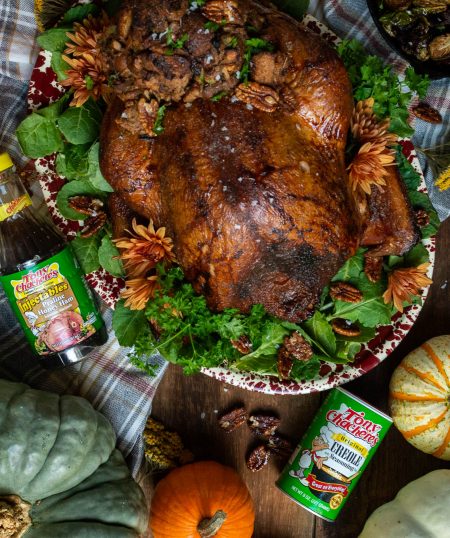 Shop Tony's Flavors In This Recipe
Ingredients
1 Cup Whole Pecans

4 Tablespoons Water

3 Tablespoons Brown Sugar

2 Teaspoons Tony's Original Creole Seasoning

1 Loaf Wheat Bread, Cut Into 1/2-Inch Cubes

2 Tart Apples, Peeled, Seeded and Chopped

8 Tablespoons Butter

1 & 1/2 White or Yellow Onion, Diced

2 Stalks Celery, Diced

4 Cloves Garlic, Minced

2 Tablespoons Fresh Parsley, Chopped

1 Tablespoon Fresh Rosemary, Chopped

1 Teaspoon Fresh Thyme, Removed from Stem

1/2 Cup Quick Candied Pecans, Chopped

Dash of Tony's Original Creole Seasoning

Fresh Parsley for Garnish

1 Turkey (12-17 Pound), Giblets Removed and Patted Dry

4-6 Ounces Tony's Praline Honey Ham Injectable Marinade

1/2 Cup Vegetable or Canola Oil

1-2 Teaspoons Tony's Original Creole Seasoning

Apple Stuffing

Quick Candied Pecans

Fresh Parsley for Garnish
Directions
Making the Quick Candied Pecans:
Heat a large skillet over medium-high heat.
Toast the pecans until just fragrant, 3-5 minutes, stirring as needed.
Meanwhile, combine the water, brown sugar and Tony's Original Creole Seasoning in a small bowl.
Remove the pecans from heat and quickly pour the brown sugar blend over them. Toss to coat. Pour onto wax paper-lined baking sheet to cool.
The pecans can be prepped 2 days ahead of time and stored in an airtight container until ready to use.
Making the Apple Stuffing:
Lay the bread out on two baking sheets in a single layer for 4-6 hours, allowing the bread to become stale.
In the same skillet you used for the pecans, heat the butter for the stuffing over medium heat. Swirl to coat the pan.
Sauté the apple, onion and celery until softened, 5-7 minutes. Add the garlic, parsley, rosemary and thyme and cook 30 seconds longer.
Remove from heat and fold the apple and onion mix into a large bowl with the bread. Add the chopped pecans and toss to make sure everything is completely combined and the bread is all coated in butter. Season with a dash of Tony's Original Creole Seasoning.
The stuffing can be prepped a day ahead of time and stored in the refrigerator in an airtight container until ready to use.
Making the Smoked Turkey:
Prep your electric smoker on the smoke setting. Use apple pellets, if possible.
Pat the turkey thoroughly dry. Place into an aluminum pan or other rimmed pan. Tuck the arms back behind the body and tie the legs together, leaving an opening for the cavity.
Pour the Tony's Praline Honey Ham Injectable Marinade into a measuring cup and fill the injector.
Plunge the injector into the turkey, about 1/2 – 1-inch apart each time.
Place the pan with the turkey in the smoker and smoke for 3 hours and then carefully remove the turkey. Using a baster, remove and reserve any drippings.
Stuff the turkey with the prepared Quick Candied Pecans and Apple Stuffing. Mix the vegetable oil and seasoning in a bowl and brush a quarter of it over the turkey. Cook for an additional 3 hours, or until the turkey safely temps around 165°F, basting every 30 minutes with the remaining oil mix and removing the drippings as needed, being sure to reserve them for later.
When the turkey has reached an internal temperature of 165°F, carefully remove it from the smoker. Cover and allow to rest for 25-30 minutes before carving.
Garnish with additional Quick Candied Pecans and fresh parsley. Meanwhile, make gravy from the reserved drippings and giblets, if desired.
Join our
family
Bring a little spice to your email inbox with Tony Chachere's Creole Club!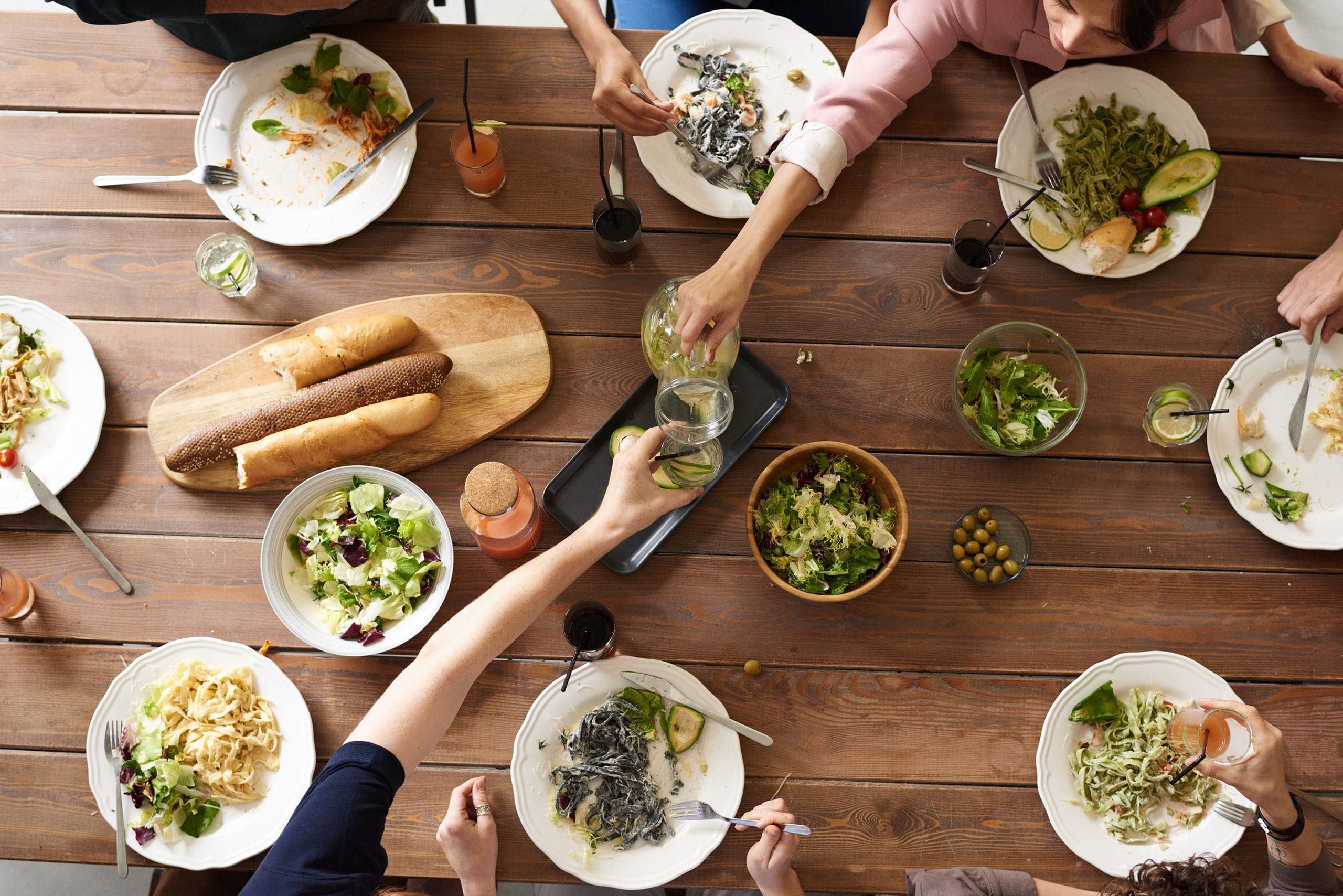 from our
Cajun Country Cookbook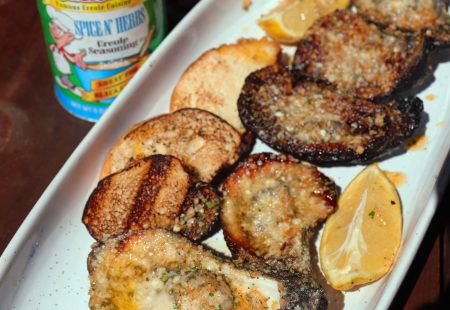 Chargrilled Oysters
Seafood and summer are a match made in heaven and @flychefaldenb knows how to fire up…
Get Recipe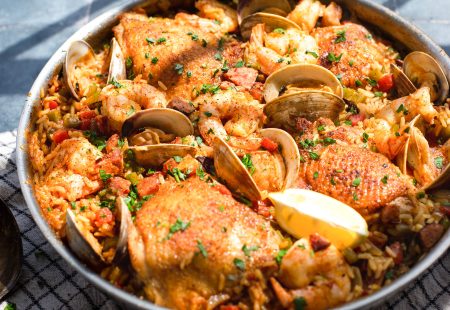 Easy Cajun Paella
This comforting and delicious paella is a Cajun twist on the traditional, thanks to Tony's Spanish…
Get Recipe