The aromatic flavors of Italy and Louisiana come together for a 30-minute indulgent dinner! Firehouse Grub's take on Tuscan Chicken brings Creole flavors to the dish making this one of the best chicken dinners you've ever tasted.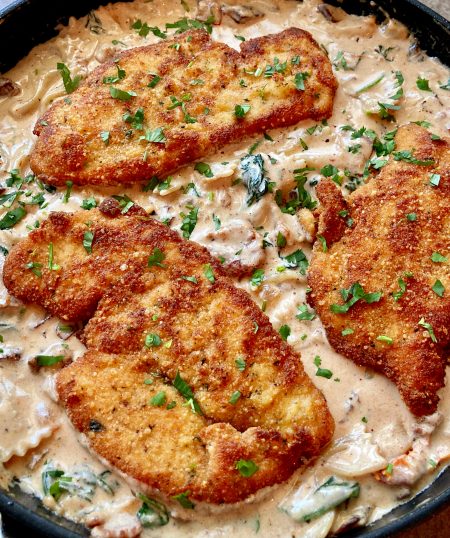 Shop Tony's Flavors In This Recipe
Ingredients
3 Big Chicken Breasts, Butterflied (or 6 Smaller Chicken Breasts Pounded Out)

2 Cups Flour

3 Eggs

2/3 Cup Parmesan Cheese for Coating Chicken

2 Cups Italian Bread Crumbs

2 Tablespoons of Tony's Original Creole Seasoning, Divided

2 Tablespoons Olive Oil

2 Tablespoons Butter

1 Medium Onion, Diced

1/2 Pound Bacon

Noodles of Your Choice

3 Cups Mushrooms, Roughly Chopped

2/3 Cup Sun Dried Tomatoes

2 Tablespoons Garlic, Minced

1 Cup Chicken Broth

3 Cups Heavy Cream (Can Substitute Almond Milk or Milk with Corn Starch for Healthier Option)

4 Cups Spinach

1/2 Cup Parmesan Cheese, Freshly Grated
Directions
Heat Skillet on medium-high heat.
Preheat oven to 400°F.
Set up coating station: in one bowl add flour; in second bowl add eggs and beat; in third bowl stir and combine 2/3 cup Parmesan, 2 cups of Italian bread crumbs, and 1 tablespoon of Tony's Original Creole Seasoning.
Coat chicken in flour, then dredge in eggs, then coat in the bread crumb mixture.
Add 1 tablespoon of olive oil and 2 tablespoons of butter to skillet.
Once oil is hot, cook chicken for 5-6 minutes per side. Remove chicken and transfer to a baking sheet and cook for 10 more minutes in the oven or until internal temperature reaches 165°F.
In the same skillet, add diced onion and diced bacon. Meanwhile, cook noodles.
After about 5 minutes, add roughly chopped mushrooms.
Once onion, bacon and mushrooms are cooked, add sun dried tomatoes and minced garlic. Cook until fragrant.
Add chicken broth to deglaze pan. Simmer to reduce by half.
Reduce heat to medium and add heavy cream. Cook until slightly thickened.
Add spinach and cook until wilted. Season to taste with Tony's Original Creole Seasoning. Taste sauce at this time to see if it needs any more.
Add Parmesan cheese and stir to melt.
Add noodles to sauce and serve with chicken. Top with more Parmesan cheese if desired.
Join our
family
Bring a little spice to your email inbox with Tony Chachere's Creole Club!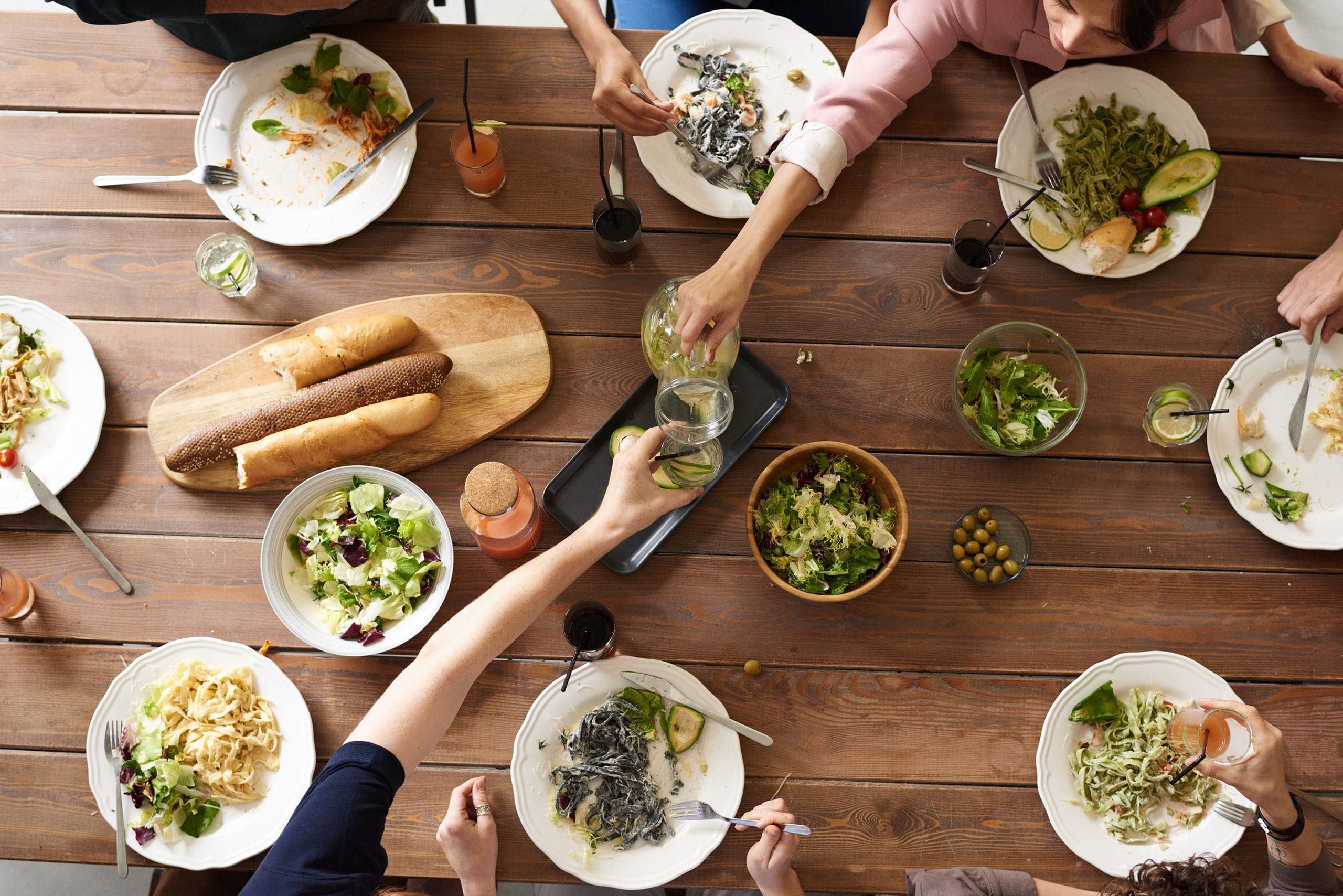 from our
Cajun Country Cookbook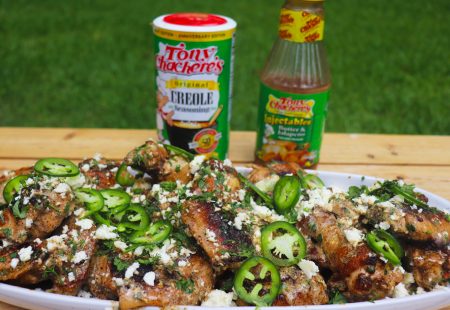 Creole-Elote Style Party Wings
@flychefaldenb takes all of the flavoring of Mexican street corn and turns it into a Creole-style…
Get Recipe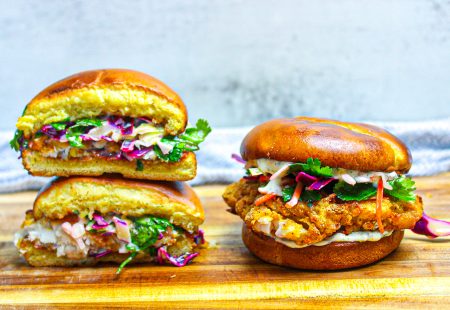 Air Fried Catfish Sandwich
Let the good times roll into your next BBQ or picnic with this Air Fried Catfish…
Get Recipe