When you pair Tony's Burger Marinade with the BOLD Creole Seasoning, you create the perfect summer pairing! That's what Kate Stuart did with this Stuffed Bold Burger, making a mouthwatering, spicy and cheesy burger everyone will crave.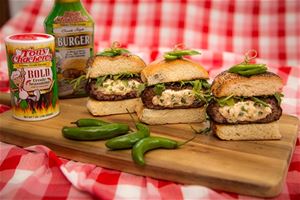 Shop Tony's Flavors In This Recipe
Ingredients
3 Pounds Ground Beef

1 1/2 Cups Tony's Burger Marinade

2 Tablespoons & 1 Tablespoon Tony's BOLD Creole Seasoning

1 Block (8 Ounces) Cream Cheese, Softened

1 Jalapeño, Seeded and Finely  Diced
Directions
Preheat grill.
In a bowl, combine ground beef, Tony's Burger Marinade and 2 tablespoons of Tony's BOLD Creole Seasoning. Measure 1/2 cup portions of beef, shape into patties and chill in the refrigerator.
Meanwhile, make the cream cheese mix by combining softened cream cheese with jalapeño and 1 tablespoon of Tony's BOLD Creole Seasoning.
Spoon cream cheese mix onto center of parchment or wax paper. Starting with the paper edge closest to you, carefully fold it over the cream cheese and using your hands, form into a log and twist the ends. Place in freezer for 30 minutes.
Remove patties from refrigerator and the cream cheese mix from freezer.
Slice cream cheese into 1/2-inch rounds, remove paper and place in the center half of the burger patties. Top with another burger patty and pinch edges to seal in the filling.
Grill burgers over medium heat, about 7-8 minutes per side (or until cooked through), and internal temperature registers 160-degrees on thermometer.
Serve burgers on toasted buns with your favorite toppings.
NOTE:
Feel free to swap out the cream cheese for your favorite cheese. The key is to place it in the freezer to firm up a bit. This prevents the filling from completely melting and oozing out while cooking.
Join our
family
Bring a little spice to your email inbox with Tony Chachere's Creole Club!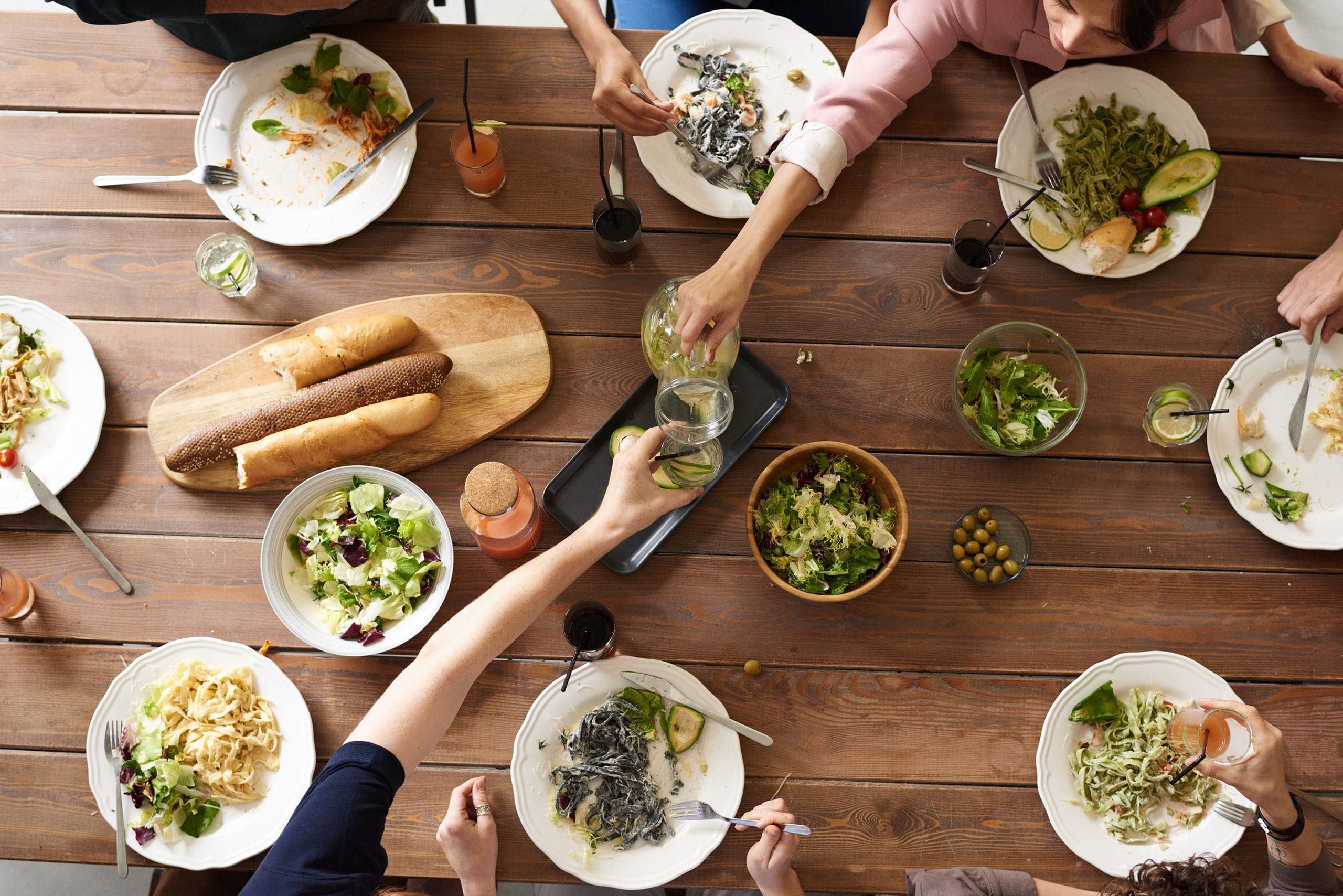 from our
Cajun Country Cookbook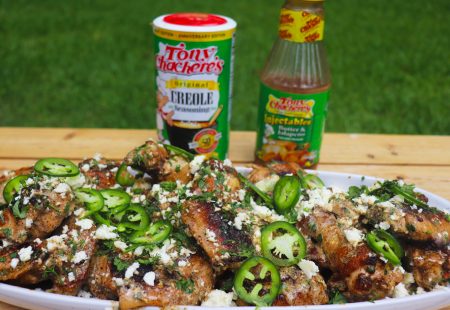 Creole-Elote Style Party Wings
@flychefaldenb takes all of the flavoring of Mexican street corn and turns it into a Creole-style…
Get Recipe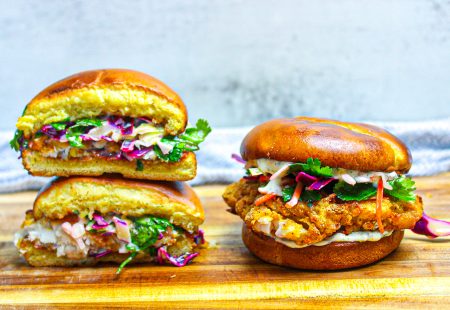 Air Fried Catfish Sandwich
Let the good times roll into your next BBQ or picnic with this Air Fried Catfish…
Get Recipe