Pumpkin Praline Cheesecake
It's everything you love about pumpkin flavored desserts and pecan praline candy combined into one dessert. Swanky Recipes says this pumpkin cheesecake will rival your family's secret trusted pumpkin pie and pecan pie recipes this holiday season.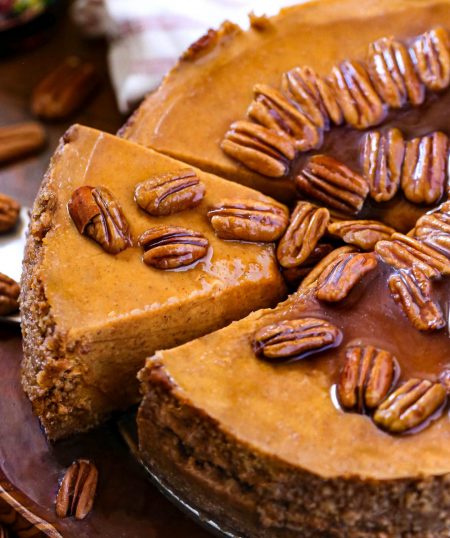 Shop Tony's Flavors In This Recipe
Ingredients
2 1/4 Cups Graham Cracker Crumbs

10 Tablespoons Butter, Melted

4 Tablespoons Light Brown Sugar, Packed

1 1/2 Teaspoons Ground Cinnamon

24 Ounces Full-Fat Cream Cheese, Room Temperature

3/4 Cup Granulated Sugar

1/2 Cup Light Brown Sugar, Packed

7 Tablespoons All-Purpose Flour

1 Can (15 Ounces) Canned Pumpkin Purée

1/4 Cup Full-Fat Sour Cream

3 1/2 Teaspoons Pumpkin Pie Spice

1/2 Tablespoon Vanilla Extract

1/2 Tablespoon Praline Extract Flavoring

2 Tablespoons Tony's Praline Honey Ham Injectable Marinade

4 Large Eggs, Room Temperature

2 Tablespoons Butter

3/4 Cup Tony's Praline Honey Ham Injectable Marinade

1/2 Teaspoon Baking Soda

2 Teaspoons Praline Extract

3/4 Cup Whole Pecans
Directions
Preheat oven to 325°F.
Cut a circle in the shape of the bottom of a 9-inch springform pan using parchment paper. Lightly grease both sides of paper and place in the bottom of the pan.
Combine crust ingredients (graham cracker crumbs, butter, light brown sugar and cinnamon) and mix until moist. Firmly press crust mixture into bottom of pan and up the sides. Bake crust for 15 minutes. Set aside to cool.
Reduce oven temperature to 300°F.
Using heavy-duty aluminum foil, wrap the pan sides and bottom well in multiple layers of foil to ensure no water will get in the pan from the water bath.
In a bowl fit with a mixer, mix together on low the cream cheese, sugars and flour until well combined, scraping down the sides of the bowl as needed.
On low, mix the pumpkin, sour cream, extracts, Tony's Praline Honey Ham Injectable Marinade, and pumpkin pie spice. Mix until well combined.
On low, add eggs one at a time, scraping down the sides of the bowl as needed until eggs are well combined.
Pour cheesecake filling into baked crust pan. Evenly spread filling with the spatula then tightly cover the top of the pan with foil.
Place cheesecake pan into a larger oven-safe pan with tall sides. Fill the empty pan with the water covering about halfway up the sides of the cheesecake pan, making sure the water is well below the foil top. The water bath will help to prevent cooking.
Bake for 1 hour and 50 minutes.
Turn off oven and let the cheesecake sit in the oven for 35 minutes with the door closed. Do not open oven door to peek inside.
After the time is up, slightly open oven door and leave cheesecake inside for about 20 minutes.
Remove cheesecake from oven. Cheesecake will slightly wiggle. Gently run a knife around the edges of the cake then cover with foil. Chill in the refrigerator until firm (about 6 hours to overnight).
In a medium saucepan over medium heat, melt butter and Tony's Praline Honey Ham Injectable Marinade. Bring to a boil.
Cook until mixture reaches 230°F and sauce is thickened (about 8 minutes). Remove from heat.
Stir in praline flavoring extract. Reserve and set aside 1/4 cup of praline glaze. Stir baking soda into the remaining saucepan of glaze.
Quickly pour praline glaze over the top of the cheesecake, spreading evenly with a spatula.
Pour pecans into reserved glaze and coat well. Place glazed pecans on top of cheesecake.
Cover and refrigerate cheesecake until ready to serve.
Join our
family
Bring a little spice to your email inbox with Tony Chachere's Creole Club!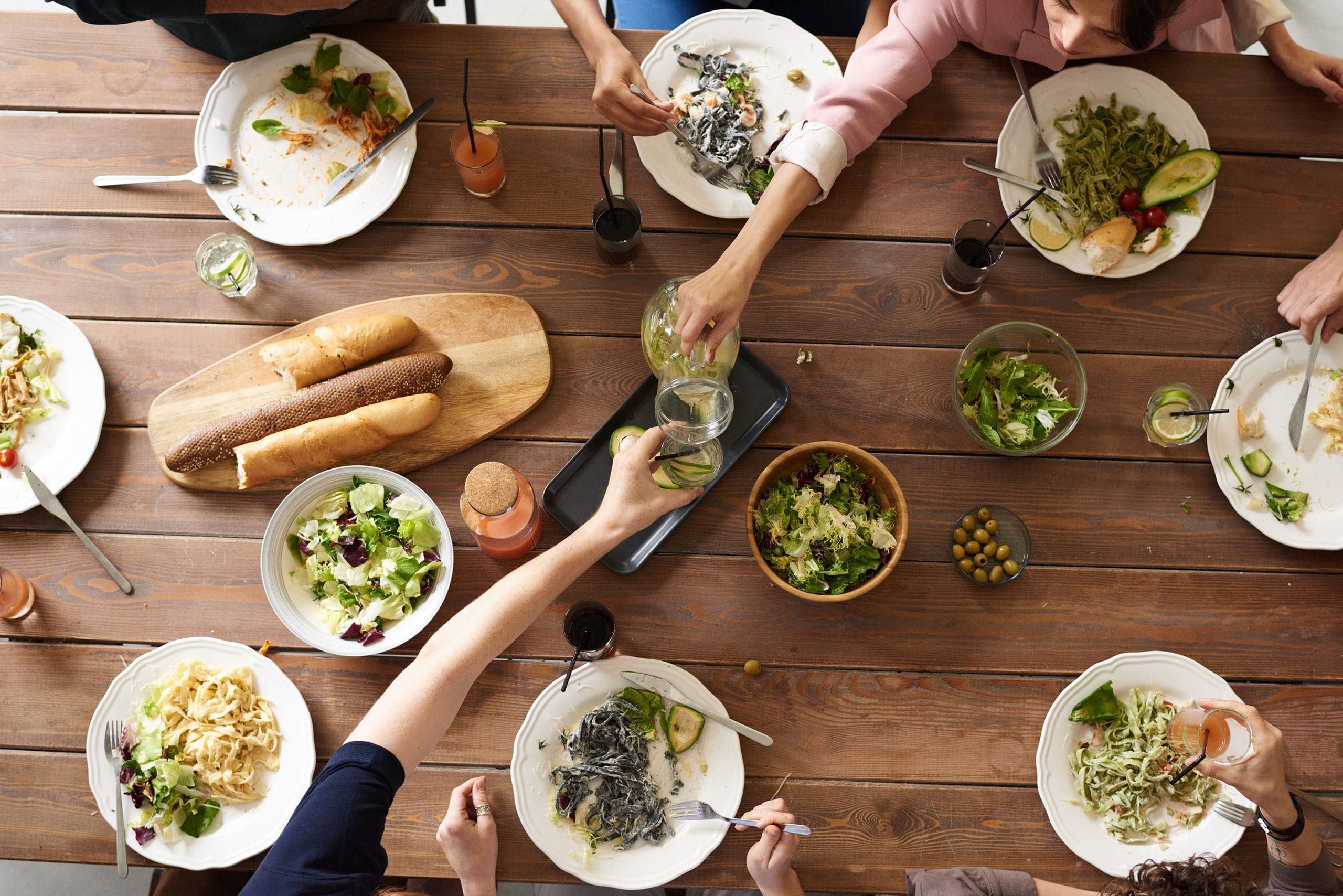 from our
Cajun Country Cookbook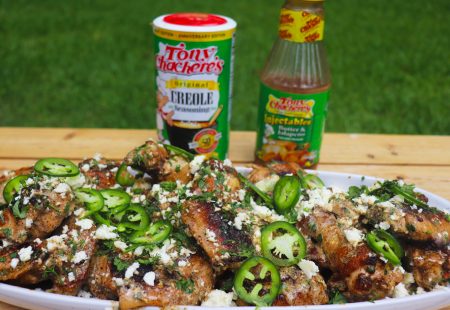 Creole-Elote Style Party Wings
@flychefaldenb takes all of the flavoring of Mexican street corn and turns it into a Creole-style…
Get Recipe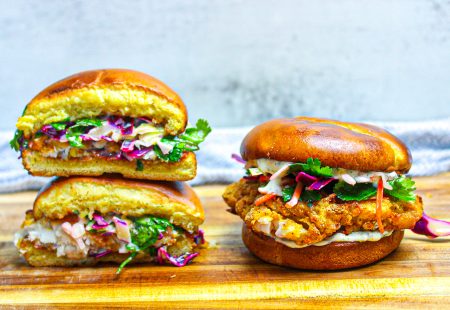 Air Fried Catfish Sandwich
Let the good times roll into your next BBQ or picnic with this Air Fried Catfish…
Get Recipe