Praline Honey Bread Pudding
For a sweet and savory treat, you have to try this Praline Honey Bread Pudding by Baking Beauty. With the sweet heat of Tony's Praline Honey Ham Marinade, this dessert is sure to be a holiday favorite!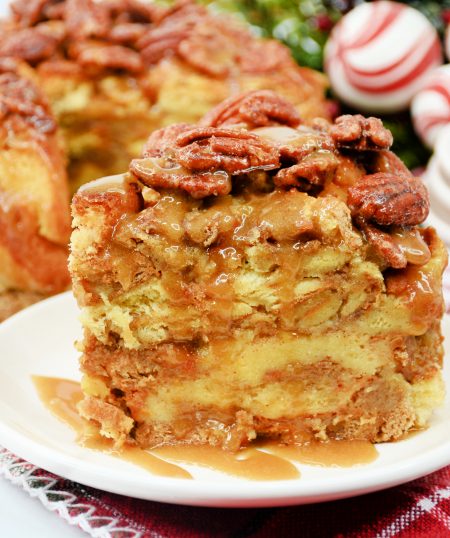 Shop Tony's Flavors In This Recipe
Ingredients
2 3/4 Cup Pecan Halves

1 Tablespoon Unsalted Butter

1 Cup White Sugar

1/4 Cup Water

1/4 Cup Tony's Praline Honey Ham Marinade

2 Loaves Brioche Bread, Cut into Small Pieces

1 Loaf Cinnamon Brioche Bread, Cut into Small Pieces

1 3/4 Cup Whole Milk

1/4 Cup Tony's Praline Honey Ham Marinade

1/4 Cup Unsalted Butter

1/2 Cup Sugar

2 Eggs

1 Cup Light Brown Sugar

1/2 Cup Unsalted Butter

2 Tablespoons Heavy Whipping Cream

4 Tablespoons Tony's Praline Honey Ham Marinade

1 Squeeze Bottle
Directions
Making the Candied Pecans:
Preheat oven to 250°F.
Place the pecan halves onto a half-sheet baking sheet.
Place it in the oven for 15 minutes or until pecans are warm to the touch.
Using a medium pot, take your butter and grease the sides and bottom. Add the sugar, water and Tony's Praline Honey Ham Marinade. Whisk until smooth and the sugar has dissolved. Cover the pot and allow mixture to boil for 3 minutes. Using a candy thermometer, gradually whisk mixture until it reaches 236°F.
Remove from the heat and fold the pecans into the mixture.
Using a slotted spoon, remove the pecans and place onto a 9×13 cookie sheet.
Bake in the oven for 30 minutes,  be sure to mix the pecans up every 10-15 minutes while they are baking.
When they are done baking, remove from the oven and place on the counter until cooled. Break the pecans apart if some stick together.
Making the Bread Pudding:
Preheat the oven to 350°F and spray a 9-inch round springform pan with nonstick spray.
Wrap foil around the bottom on the springform pan to avoid leaks.
Using a small pot, heat the butter, Tony's Praline Honey Ham Marinade and milk until the butter is melted and everything combined.
In a large bowl, whisk the sugar and eggs until combined and smooth.
Fold in the brioche pieces until partially coated.
Gradually pour in the warmed milk mixture and gently fold until combined.
Pour the bread pudding into the baking dish.
Place a 9×13 baking dish, half filled with water, on the lower rack of the oven. Then carefully place the springform pan directly above the 9×13 baking dish.
Bake for 45 minutes or until a toothpick comes out clean.
When finished baking, allow bread pudding to cool for 15 minutes before removing the springform pan.
Making the Praline Honey Sauce:
Using a small pot, bring the butter, brown sugar, heavy whipping cream and Tony's Praline Honey Ham Marinade to a simmer.
Ounce combined and warm, pour the sauce into a squeeze bottle.
Drizzle the sauce over the bread pudding and top with a handful of candied pecans. Enjoy!
Join our
family
Bring a little spice to your email inbox with Tony Chachere's Creole Club!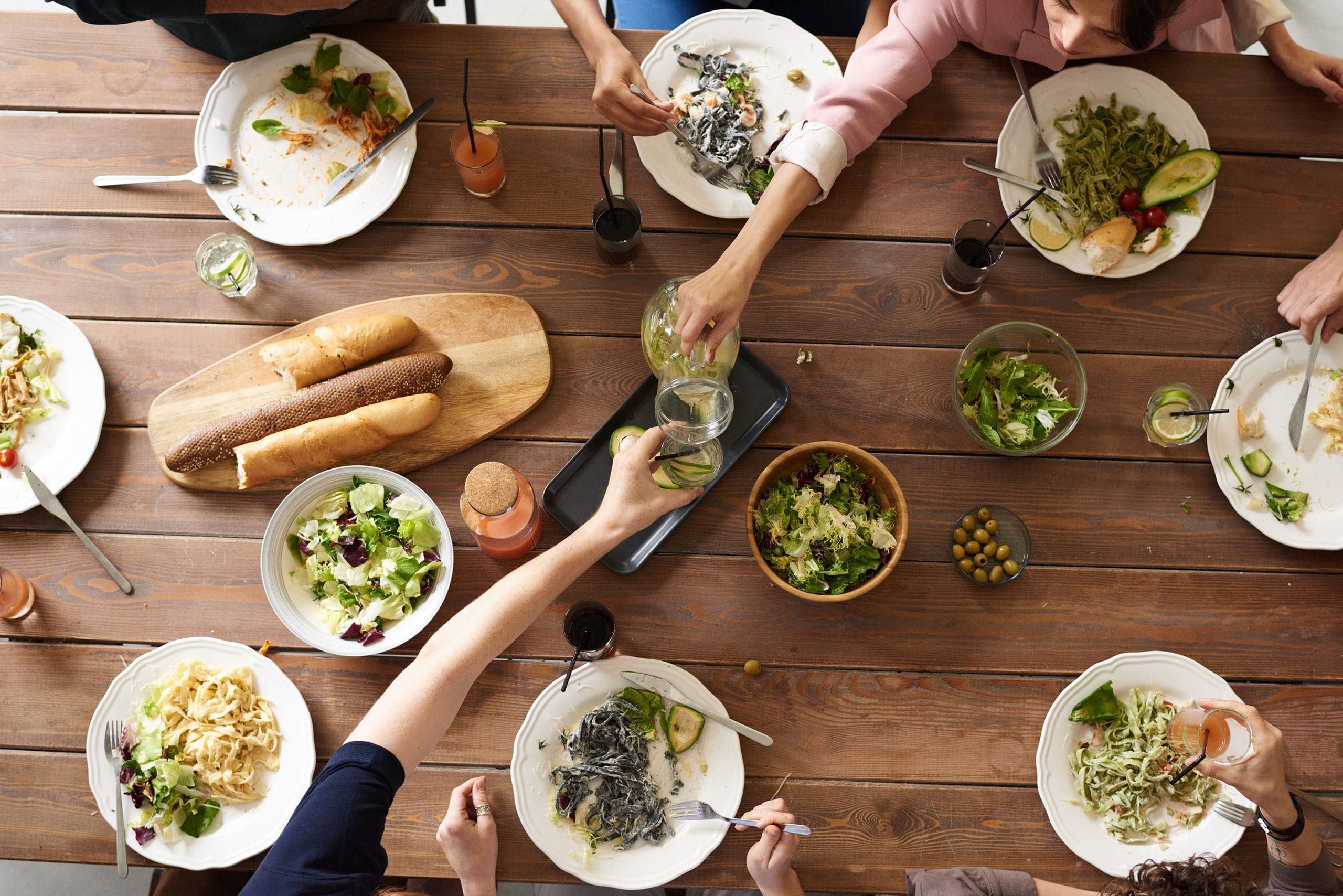 from our
Cajun Country Cookbook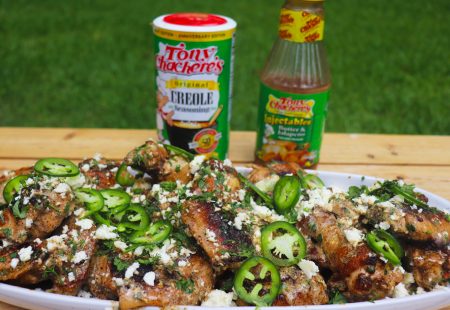 Creole-Elote Style Party Wings
@flychefaldenb takes all of the flavoring of Mexican street corn and turns it into a Creole-style…
Get Recipe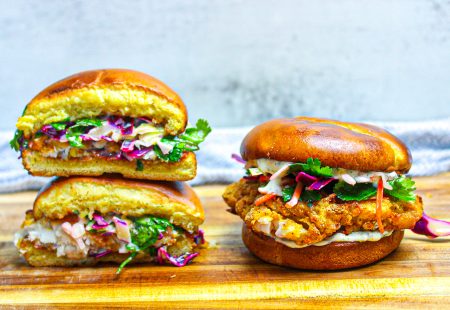 Air Fried Catfish Sandwich
Let the good times roll into your next BBQ or picnic with this Air Fried Catfish…
Get Recipe