Forget scalloped potatoes, THIS is the creme de la creme of all potato recipes!! The creamy Creole cheese sauce and tender potatoes in this classic French dish by  @flychefaldenb  combine to make a deliciously addictive experience.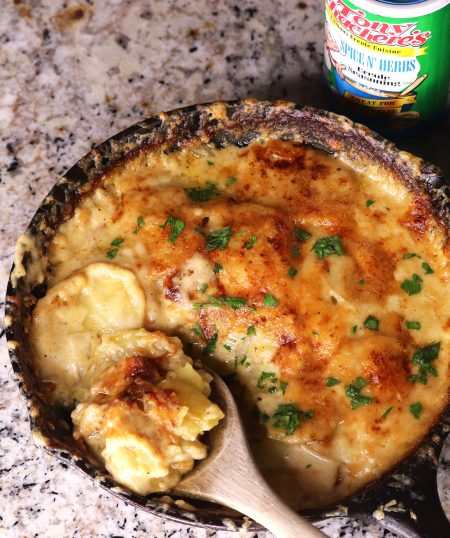 Shop Tony's Flavors In This Recipe
Ingredients
3lbs medium Yukon potatoes

1/2 onion, cut into slices

1/2 cup of Tony Chachere's Roasted Garlic & Herb Injectable Marinade

2 tablespoons salted butter

1/4 cup all purpose flour

1 1/2 cup heavy cream

Tony's Spices N Herbs Seasoning (to taste)

8 ounces sharp cheddar cheese

1/2 cup gruyere cheese

1/4 cup grated parmesan

fresh chopped parsley
Directions
Preheat the oven to 375 degrees F.
Spray a square baking dish with nonstick cooking spray and set aside.

 

Wash and scrub your potatoes to remove any dirt.
Using a mandolin, cut potatoes into 1/8 inch rounds.
Lay the sliced rounds overlapping around a cast iron skillet. Add onions in between the potatoes at random. Pour 1/2 c of Tony Chachere's Roasted Garlic & Herb Marinade on top and set aside.

 

In a large saucepan over medium heat add butter. Once butter is melted, begin adding flour while gradually adding milk. Stir constantly making sure to remove any lumps. Bring mixture to a boil then reduce heat to low and let simmer.

 

Begin to stir in shredded cheddar cheese and Tony's Spices & Herb Seasoning. Taste and add more, if necessary.
Pour sauce evenly over the potatoes and onions.
Cover the pan with foil, then bake for 45 minutes.
After 45 minutes, remove foil, sprinkle top of potatoes with 1/2 c shredded gruyere and ¼ c parmesan. Return to the oven and bake for 25 more minutes or until potatoes are done and nice and golden brown on top.

 

Remove from the oven and garnish with fresh chopped parsley and enjoy!
Join our
family
Bring a little spice to your email inbox with Tony Chachere's Creole Club!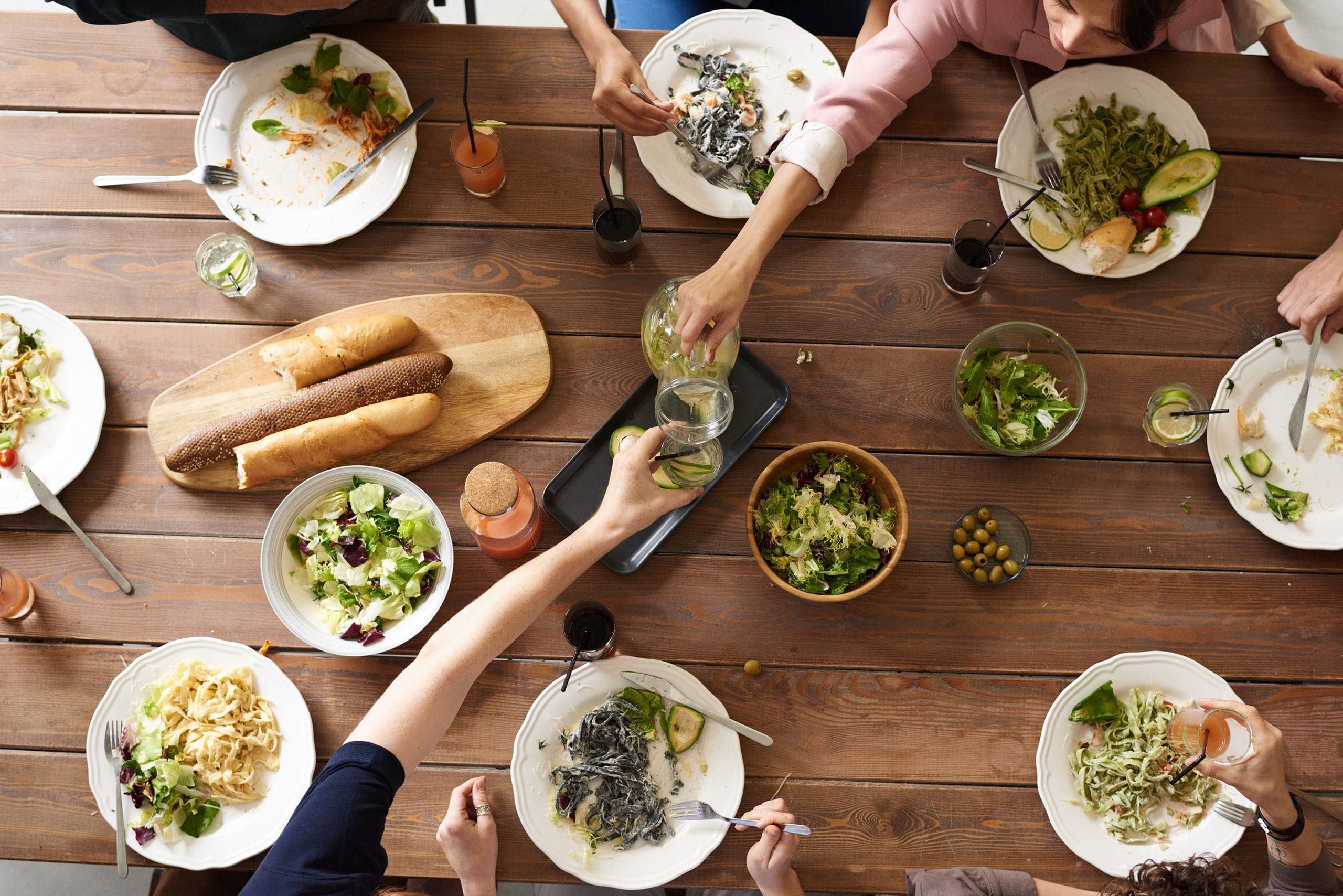 from our
Cajun Country Cookbook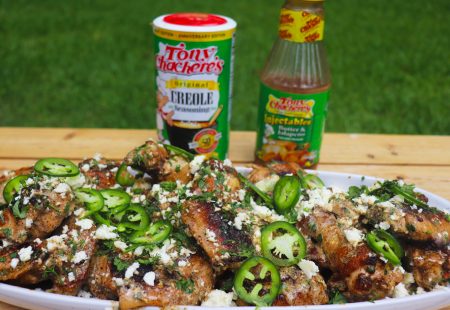 Creole-Elote Style Party Wings
@flychefaldenb takes all of the flavoring of Mexican street corn and turns it into a Creole-style…
Get Recipe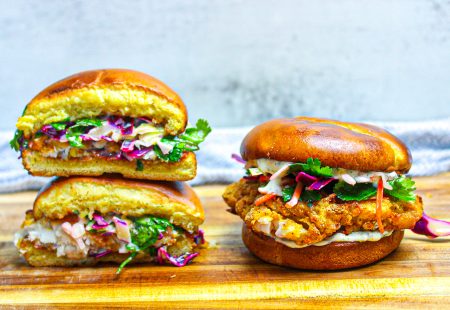 Air Fried Catfish Sandwich
Let the good times roll into your next BBQ or picnic with this Air Fried Catfish…
Get Recipe