Tony Chachere's is the Official Louisiana Cookin' Test Kitchen Seasoning Partner. As part of the partnership, the Test Kitchen cooked up this Dark Oyster Stew. The chefs in the Test Kitchen say this version of oyster stew shakes things up with a dark brown roux and is packed with plump, briny oysters.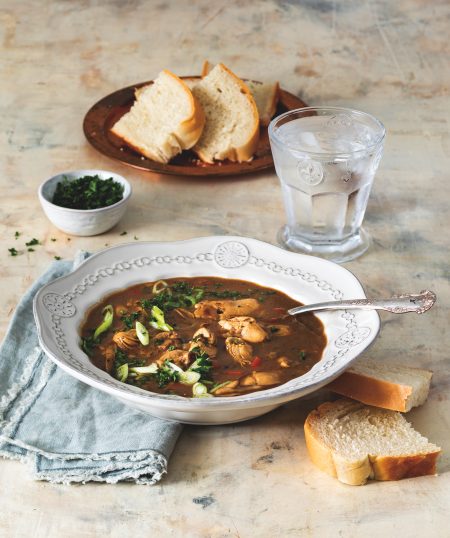 Shop Tony's Flavors In This Recipe
Ingredients
1/2 Cup Unsalted Butter

1/2 Cup All-Purpose Flour

1 Cup Chopped Shallot (About 2 Shallots)

3/4 Cup Red Bell Pepper, Chopped (About 1 Bell Pepper)

1/2 Cup Celery, Chopped

1/3 Cup Poblano Pepper, Chopped (About 1 Pepper)

1 Tablespoon Garlic, Chopped (About 3 Large Cloves)

1 Tablespoon Tony's No Salt Seasoning

1 Container (32 Ounces) Chicken Broth

5 Containers (8 Ounces) Shucked Oysters, Drained (Reserve Oyster Liquor)

Sliced French Bread, to Serve

Garnish: Chopped Fresh Parsley, Sliced Green Onion
Directions
In a Dutch oven, melt butter over medium-high heat. Add flour and whisk vigorously until smooth and combined. Reduce heat to medium and cook until roux is dark brown in color but not burned, similar to the color of milk chocolate, 30-40 minutes.
Add shallot, bell pepper, celery, poblano, garlic, and Tony's No Salt Seasoning to roux. Cook over medium heat until vegetables are tender, 3-4 minutes. Increase heat to medium-high. Whisk in broth and 2 cups reserved oyster liquid until combined. (If oyster liquor does not equal 2 cups, use water to make up the remaining volume.) Simmer until thickened, 25-30 minutes.
Add oysters to stew and simmer until just cooked through, 1-2 minutes. Serve with French bread. Garnish with parsley and green onion, if desired.
Join our
family
Bring a little spice to your email inbox with Tony Chachere's Creole Club!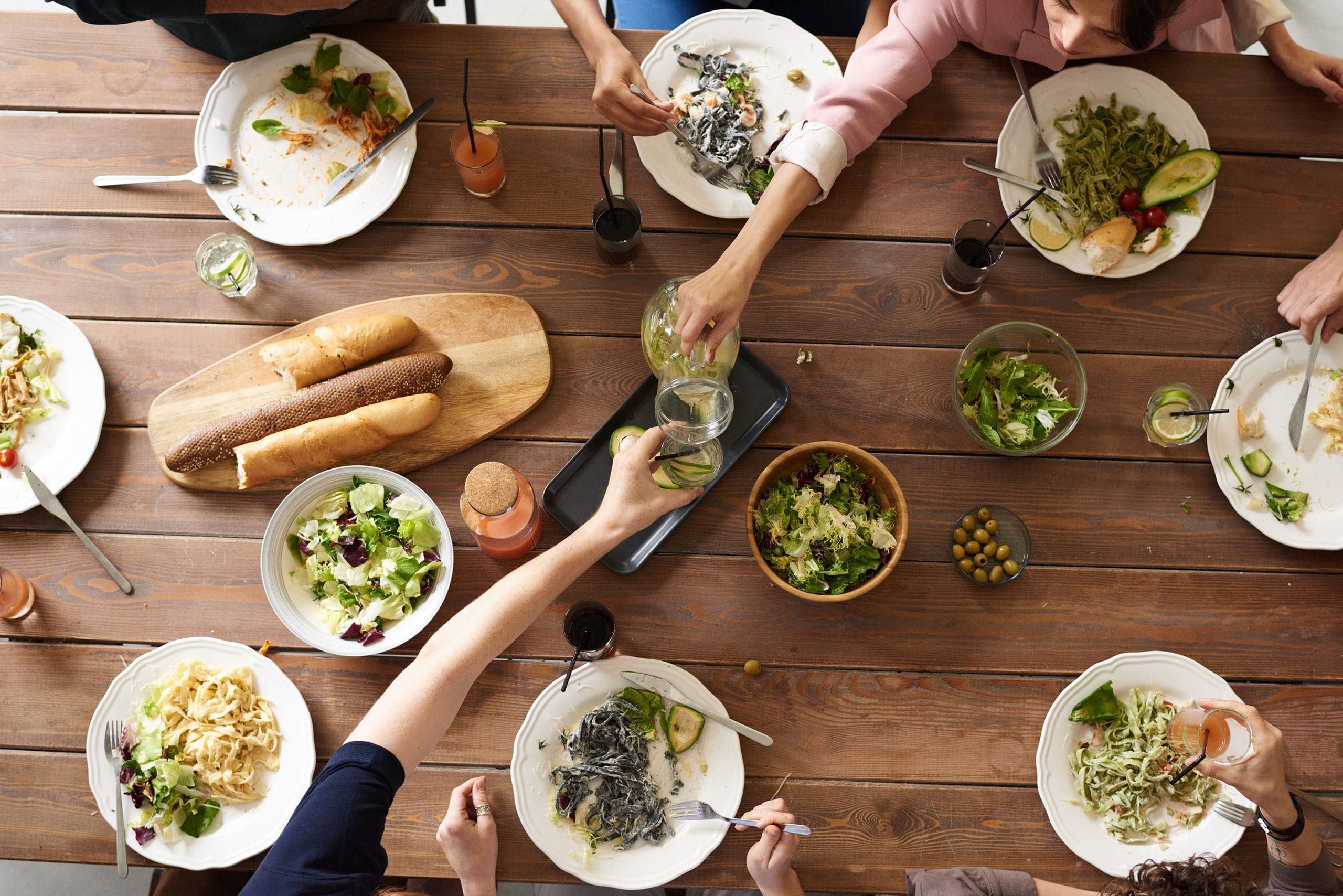 from our
Cajun Country Cookbook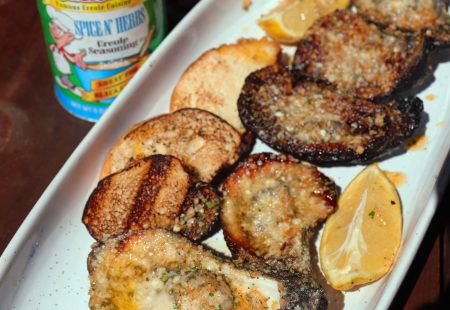 Chargrilled Oysters
Seafood and summer are a match made in heaven and @flychefaldenb knows how to fire up…
Get Recipe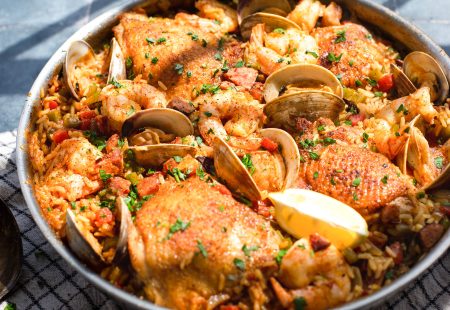 Easy Cajun Paella
This comforting and delicious paella is a Cajun twist on the traditional, thanks to Tony's Spanish…
Get Recipe