Creole Shrimp Nachos with Creamy Queso
"Nachos are a go-to treat in my home when the day has been a bit more crazy than usual. What's not to like? They are quick and easy – a few vegetables and a bit of protein tossed in a hot skillet, all topped with  bit of cheese, and you're good to go. They're positively craveable! And with Tony's No Salt Seasoning Blend, they stay in the healthy-food territory without losing any flavor," said James Beard Award-winning Chef Virginia Willis.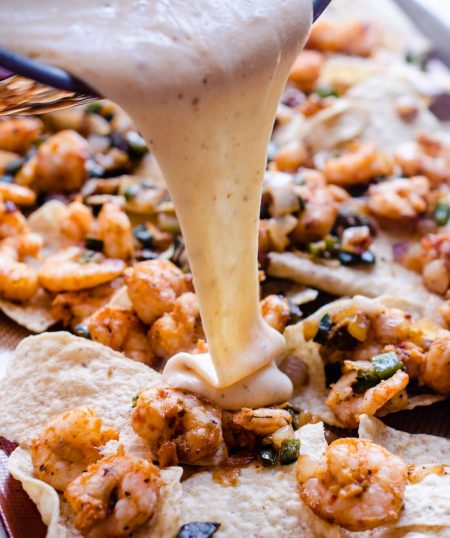 Shop Tony's Flavors In This Recipe
Ingredients
6 Ounces Reduced Sodium or No Salt Tortilla Chips (About 1/2 of a 12 Ounce Bag)

1 Tablespoon Canola Oil

1 Sweet Onion, Diced

1 Poblano Pepper, Cored, Seeded and Diced

1 Pound Shrimp, 40/60 Count, Peeled and Deveined

2 Tablespoons Tony's No Salt Seasoning Blend, Divided

2  Tablespoons Unsalted Butter

2 Tablespoons Canola Oil

4 Tablespoons All-Purpose Flour

2 Cups Low Fat Milk

8 Ounces Monterey Jack Cheese, Grated

3 Scallions, Chopped

1 Jalapeño, Sliced

1 Sweet Red Pepper, Sliced

1/4 Cup Cilantro Leaves
Directions
Heat the oven to 400°F.
Line a baking sheet with a nonstick silicone baking sheet, aluminum foil, or parchment. Sprinkle over the chips in one layer; set aside.
Heat the oil in a skillet over medium-high heat. Add the onion and poblano pepper. Cook, stirring occasionally, until the onions are translucent and the peppers are tender, 3-5 minutes.
Meanwhile, place the shrimp in a bowl and pat dry with paper towels. Sprinkle on the Tony's No Salt Seasoning Blend and stir to combine.
Add the seasoned shrimp to the onion-pepper mixture and stir to combine. Cook, stirring occasionally, until the shrimp are pink, about 3 minutes. Remove from the heat and keep warm.
Heat the butter and oil in a saucepan, whisk in the flour and cook for a minute or two until foaming. Pour in the milk and bring to a boil, whisking constantly until the sauce thickens. Simmer until the sauce coats the back of a spoon, about 2 minutes. Add the cheese ad the Tony's No Salt Seasoning Blend; stir to combine.
Once the queso is ready, evenly scatter the shrimp, onions and peppers over the tortilla chips. Pour the warm queso over the chips and shrimp mixture. Top with chopped scallions, jalapeño and sweet red pepper. Transfer to the oven and cook just until everything is heated through, about 5 minutes. Remove from the oven and scatter over cilantro leaves. Serve immediately.
Join our
family
Bring a little spice to your email inbox with Tony Chachere's Creole Club!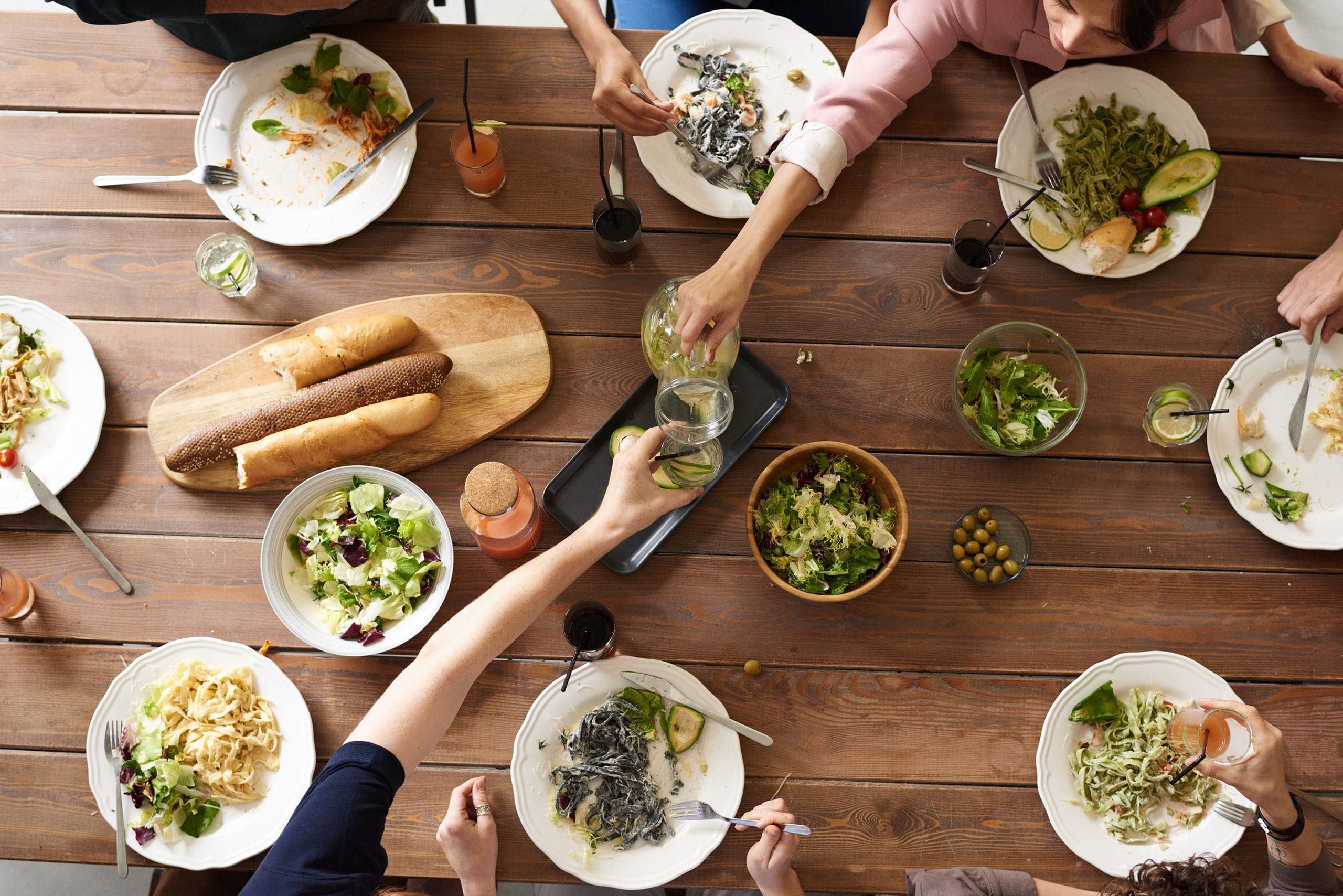 from our
Cajun Country Cookbook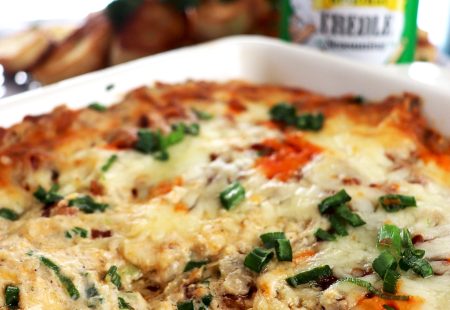 Cajun Boudin Dip
This creamy, cheesy, and dreamy dip recipe by @flychefaldenb is a party essential. Be sure you…
Get Recipe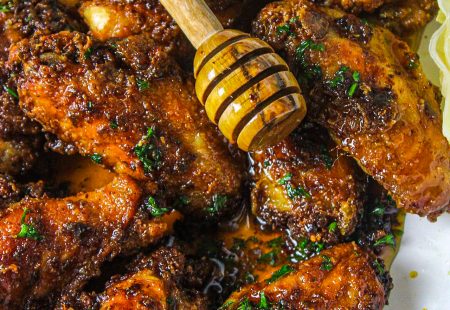 Hot Honey Wings
Try these sweet and zesty Hot Honey Wings by @creoleseoul for a bite of something you…
Get Recipe