Creole Ranch Potato Salad
This Creole Ranch Potato Salad by Salt & Lavender comes together fast, has a creamy Creole kick and is perfect for those outdoor BBQs and picnics!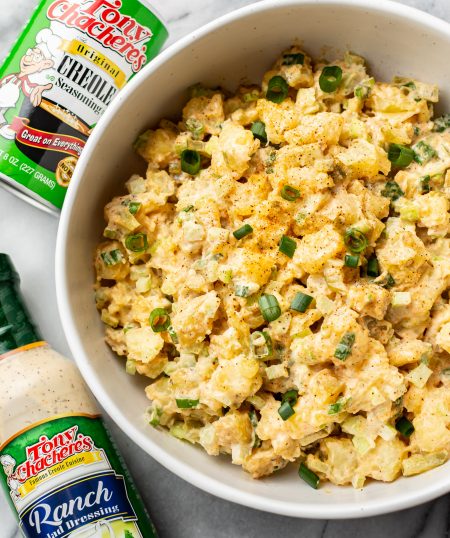 Shop Tony's Flavors In This Recipe
Ingredients
2 Pounds Yukon Gold Potatoes, Diced

1 Tablespoon White Vinegar

3 Stalks Celery, Chopped

1/3 Cup Scallions or Red Onions, Chopped

1/2 Cup Sweet or Dill Pickles, Chopped

1/2 Cup Mayonnaise

1/4 Cup Tony's Creole-Style Ranch Salad Dressing

1 Teaspoon Tony's Original Creole Seasoning

1/2 Teaspoon Smoked Paprika

1/4 Teaspoon Garlic Powder

1/2 Teaspoon Tony's Pepper Sauce (Optional)
Directions
Cut the potatoes into small bite-sized pieces that are similar in size (no need to peel the potatoes, but you can if you prefer). Add them to a large pot (don't salt the water) and ensure they are covered by 1″ of water. Bring the potatoes to a boil over medium-high heat, then reduce the heat and let them simmer until they're tender when pierced by a knife.
While the potatoes cook, add the mayo, Tony's Creole-Style Ranch Dressing, Tony's Original Creole Seasoning, paprika, garlic powder and Tony's Pepper Sauce (optional) to a small bowl and mix together until smooth. Refrigerate until needed.
Once the potatoes are cooked, drain them thoroughly and then return them to the pot they cooked in. Drizzle them with the white vinegar and toss gently with 2 spoons. Let cool for at least 20 minutes.
While the potatoes are cooling, prep the celery, onions and pickles, and add them to a large salad bowl.
After the potatoes have cooled for 20 minutes (they will still be warm but not so hot that the mixed dressing will separate), add them to the salad bowl along with the dressing. Toss gently until coated. Sprinkle a little extra Tony's Original Creole Seasoning on top.
Serve immediately or cover the bowl with plastic wrap and refrigerate to let the flavors meld a bit more prior to serving.
Join our
family
Bring a little spice to your email inbox with Tony Chachere's Creole Club!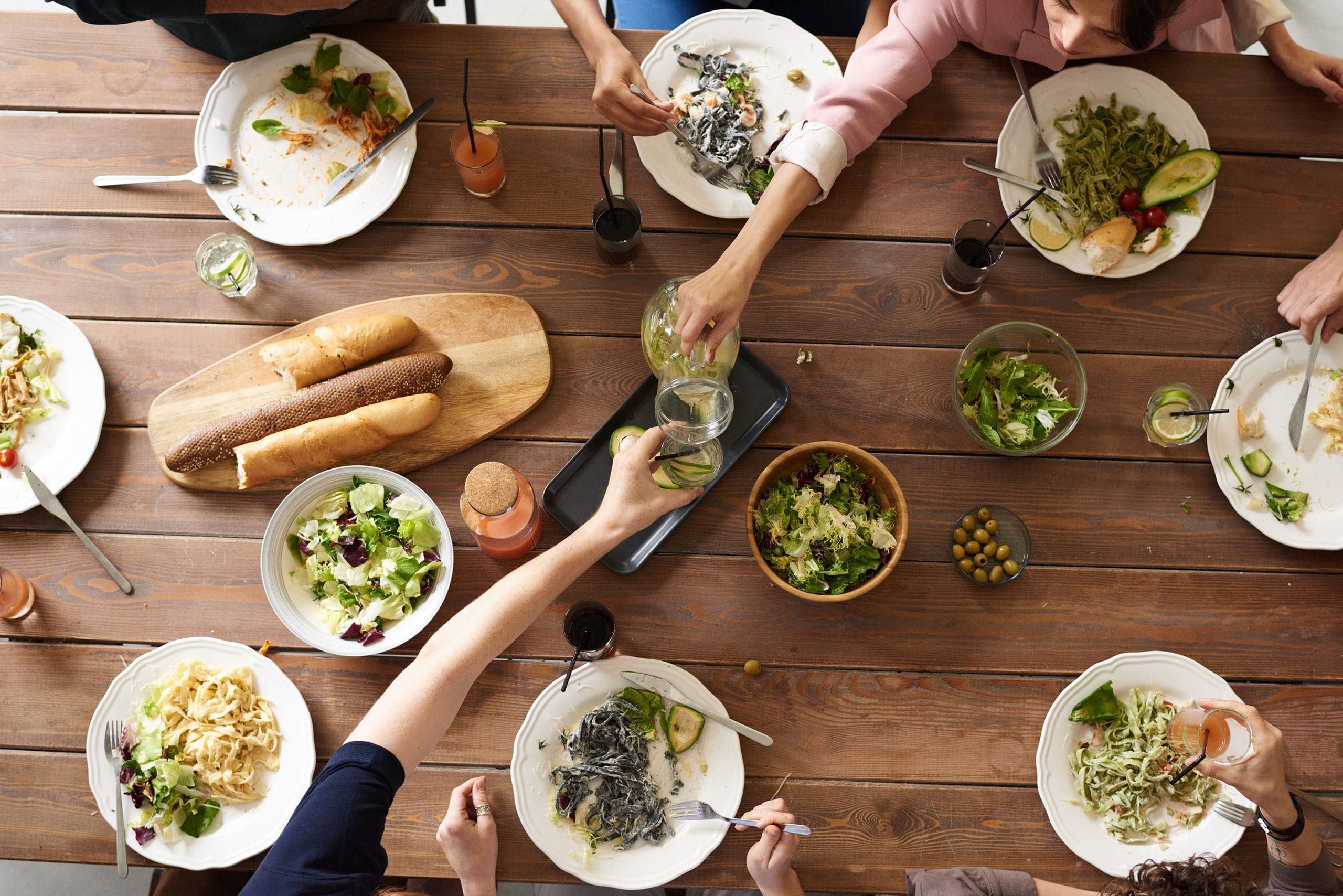 from our
Cajun Country Cookbook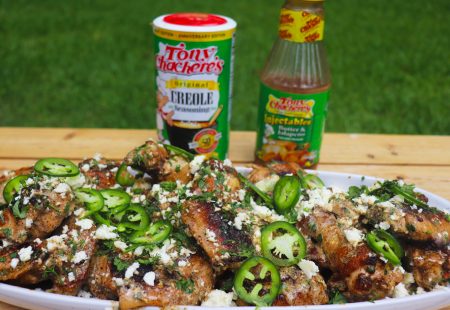 Creole-Elote Style Party Wings
@flychefaldenb takes all of the flavoring of Mexican street corn and turns it into a Creole-style…
Get Recipe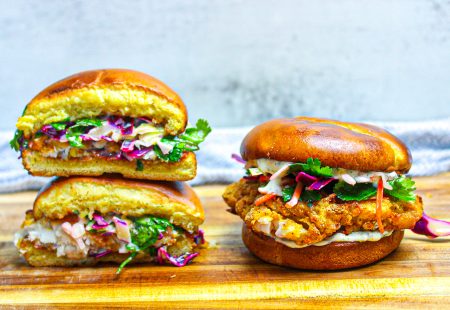 Air Fried Catfish Sandwich
Let the good times roll into your next BBQ or picnic with this Air Fried Catfish…
Get Recipe