Cajun Poutine with Shrimp and Sausage
French fries and cheese curds topped with brown gravy … what more could you ask for? How about a Creole twist? That's exactly what The Beach House Kitchen did with this Cajun Poutine with Shrimp and Sausage.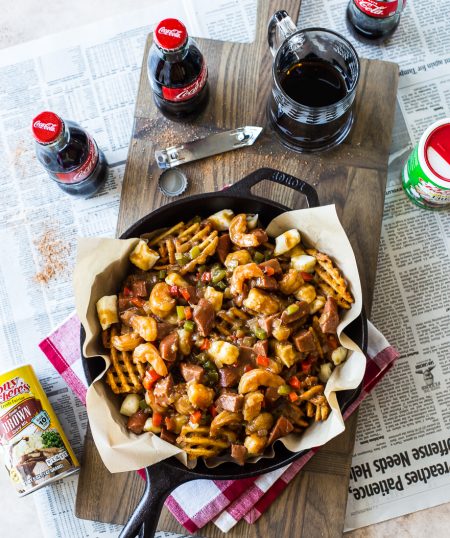 Shop Tony's Flavors In This Recipe
Ingredients
4 Cups Water

8 Tablespoons Tony's Instant Brown Gravy Mix

1/2 Teaspoon Tony's Original Creole Seasoning

2 Tablespoons Ketchup

1 Tablespoon Apple Cider Vinegar

2 Teaspoons Worcestershire Sauce

1 Bag (22 Ounces) Frozen Waffle Fries

5 Tablespoons Butter

1 Pound Shrimp, Peeled and Deveined

3/4 Cup Yellow Onion, Chopped

1/2 Cup Red Bell Pepper, Chopped

1/2 Cup Green Bell Pepper, Chopped

2 Cloves Garlic, Minced

1 Tablespoon All-Purpose Flour

1 Ring (12 Ounces) Cajun-Style Andouille Smoked Sausage, Cut Into Small Chunks

8 Ounces Cheddar Cheese Curds
Directions
In a large saucepan, whisk together 4 cups water, Tony's Brown Gravy Mix, Tony's Original Creole Seasoning, ketchup, apple cider vinegar and Worcestershire sauce.
Bring to a boil. Once mixture comes to a boil, lower the heat to a simmer and continue to cook for 2-3 minutes until slightly thickened. Turn off the heat and set aside.
Cook the waffle fries according to package directions.
In another large saucepan, melt 2 tablespoons butter over medium-high heat. add the shrimp and cook until just pink.
Remove the shrimp with a slotted spoon, then cut the shrimp into large chunks and set aside.
Add the remaining 3 tablespoons of butter to the juices left in the saucepan. Cook over medium-high heat until the butter is melted. Add the onions, red pepper, green pepper and cook for 5 minutes until the veggies are softened.
Add the garlic and continue to cook for 1 minute. Lower the heat to medium and add the flour and mix until well combined. Cook for 1-2 minutes.
Add the prepared brown gravy, shrimp and andouille smoked sausage chunks and mix until well combined. Cook until heated through, about 3-4 minutes.
Plate the fries in a large shallow serving bowl or individual bowls. Top with the cheese curds. Ladle the gravy over the fries and serve.
Join our
family
Bring a little spice to your email inbox with Tony Chachere's Creole Club!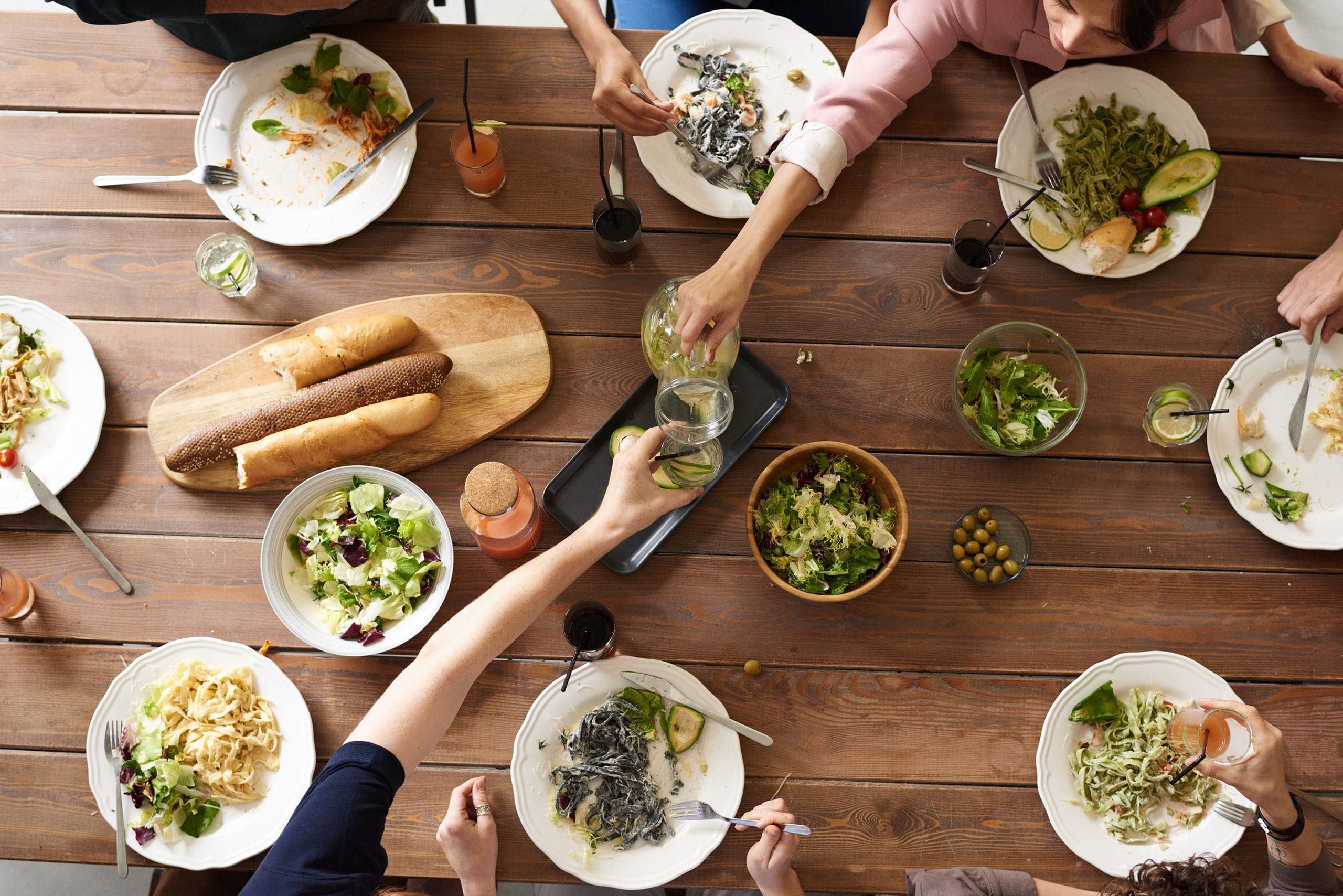 from our
Cajun Country Cookbook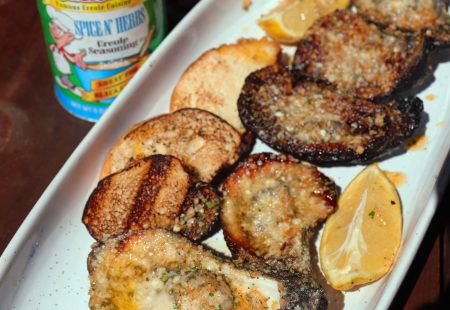 Chargrilled Oysters
Seafood and summer are a match made in heaven and @flychefaldenb knows how to fire up…
Get Recipe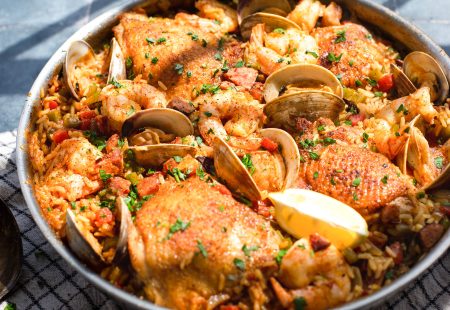 Easy Cajun Paella
This comforting and delicious paella is a Cajun twist on the traditional, thanks to Tony's Spanish…
Get Recipe