Cajun Chicken Caesar Salad
The traditional Caesar salad gets a Cajun upgrade! Salt & Lavender says this zesty Cajun Chicken Caesar Salad is loaded with the bold Cajun flavors of Tony's marinade and seasoning making it an irresistible summer treat.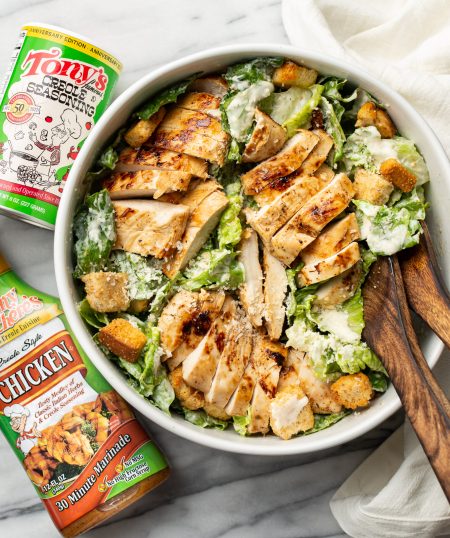 Shop Tony's Flavors In This Recipe
Ingredients
2 Large Chicken Breasts, Cut in Half Lengthwise

1/2 Cup Tony's 30-Minute Chicken Marinade

1 Tablespoon Olive Oil for Frying

1 Head Romaine Lettuce (About 7 Ounces if Using Pre-Cut Lettuce)

1/4 Cup Freshly Grated Parmesan Cheese, or to Taste

1 Handful Croutons, to Taste

1/2 Cup Mayo

1 Tablespoon Sour Cream

2 Teaspoons Lemon Juice

1 Teaspoon Worcestershire Sauce

1/4 Teaspoon Tony's Original Creole Seasoning

1 Clove Garlic, Minced
Directions
Cut the chicken breasts in half lengthwise to make 4 thinner cutlets. Add them to a large zip top bag along with Tony's Chicken Marinade. Turn the bag a few times to fully coat the chicken and let it sit for 30 minutes in the refrigerator – longer for a more intense flavor.
While the chicken marinates, add the mayo, sour cream, lemon juice, Worcestershire sauce, Tony's Original Seasoning and garlic to a medium bowl and mix together until smooth. Taste and adjust ingredients as needed.
Tear the lettuce into bite-sized pieces and add them to a large salad bowl. Then grate the Parmesan cheese and measure out the croutons and add to the lettuce.
Once the chicken has finished marinating, heat the olive oil in a large skillet over medium-high heat. Once the pan is hot, remove the chicken from the bag and add the pieces to the pan – discard the leftover marinade. Cook for about 5 minutes per side or until the chicken is cooked through, then transfer it to a plate and let it cool a bit. Slice the chicken.
Assemble the salad. Gradually drizzle on the dressing to taste. Toss and then top with the cooked chicken slices. Serve immediately and enjoy!
NOTES:
Any leftover dressing will be good in the refrigerator for a few days in a covered container.
Salad serves 4-6 people depending on portion size and what it's served with.
Join our
family
Bring a little spice to your email inbox with Tony Chachere's Creole Club!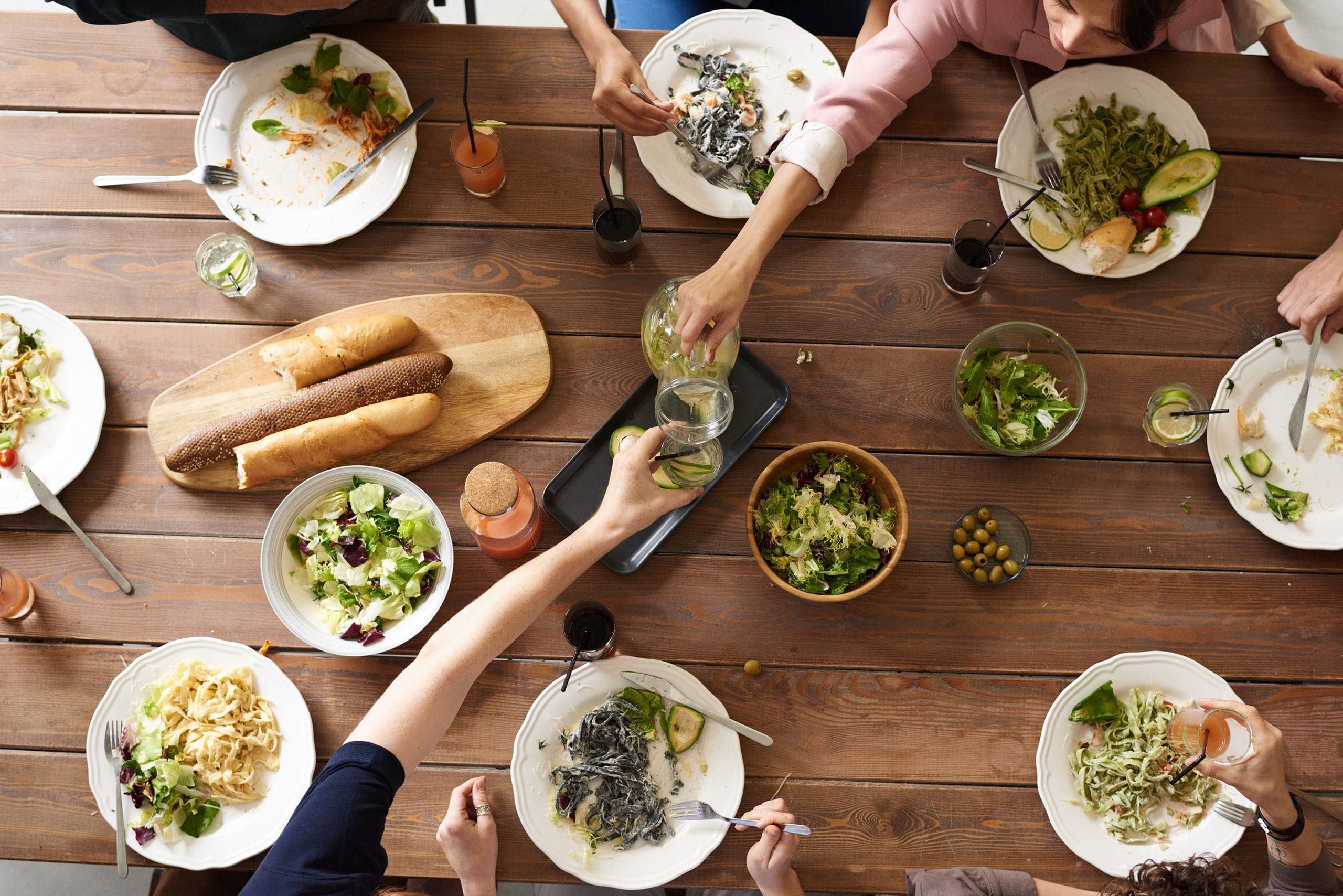 from our
Cajun Country Cookbook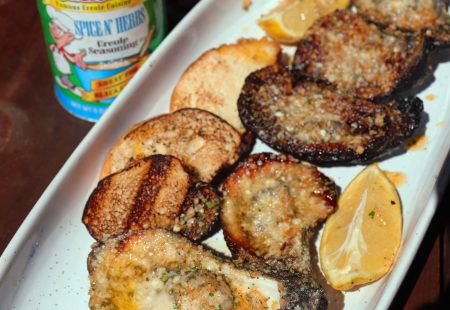 Chargrilled Oysters
Seafood and summer are a match made in heaven and @flychefaldenb knows how to fire up…
Get Recipe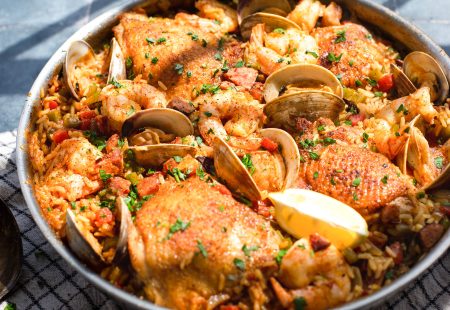 Easy Cajun Paella
This comforting and delicious paella is a Cajun twist on the traditional, thanks to Tony's Spanish…
Get Recipe