Meatloaf Slider with Bacon Jam
Take your classic meatloaf to new levels! Chef Susan Spicer creates an amazingly tasty slider with savory Creole flavor and bacon jam.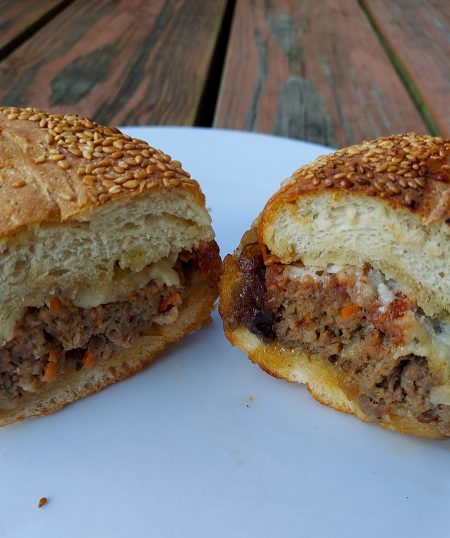 Shop Tony's Flavors In This Recipe
Ingredients
2 Tablespoons Butter

1 Cup Onion, Finely Chopped

1 Cup Red and/or Green Pepper, Finely Chopped

2 Teaspoons Garlic, Minced

1 Pound Ground Beef

1/2 Pound Ground Pork

1 Small Carrot, Grated

2 Eggs, Mixed with 1/2 Cup Milk

2 Tablespoons Ketchup

1 Tablespoon Worcestershire Sauce

1/2 Cup Breadcrumbs

2 Tablespoons Tony's Spice N' Herbs Seasoning

2 Tablespoons Fresh Parsley, Chopped

Red Pepper Flakes

Ketchup for Topping

1 Cup Bacon, Finely Diced (About 1/2 Pound)

3 Cups Onion, Finely Diced (About 2 Medium Yellow)

1 Sprig Fresh Thyme, Leaves Picked and Chopped, Stems Discarded (Optional)

2 Cups White Sugar

1 Cup Tony's 30-Minute Burger Marinade

2 Tablespoons Cider Vinegar (Optional)

8 Mini Pistolettes (or 4 Large)

8 Slices Meatloaf

1 Cup Bacon Jam

1 Cup Mayonnaise (with 2 Tablespoons Roasted Garlic, Optional)

1/2 Cup Parmesan, Grated
Directions
Making the Meatloaf:
Preheat oven to 375°F.
Sweat onions, peppers and garlic in butter.
Mix beef and pork together in a large bowl.
Whisk together eggs with milk, ketchup and Worcestershire sauce. Stir in breadcrumbs, Tony's Spice N' Herbs Seasoning and parsley.
Add the mixture to the meat, then add red pepper flakes and test for seasoning by cooking a small amount. Form meat into a log, and cook for about 15 minutes, then smear about 1/2 cup ketchup on top and continue cooking for another 5-10 minutes.
Remove meatloaf from heat. Carefully pour off fat and let cool at room temperature or in the refrigerator until cool enough to slice.
Making the Bacon Jam:
Heat a 2-quart stainless pot and add bacon. Cook over medium-high heat, stirring to render fat and start crisping bacon.
Add diced onion and thyme and cook, stirring, for about 5-6 more minutes until onions start to sweat.
Stir in sugar and Tony's 30-Minute Burger Marinade.
Bring to a boil, then lower heat and simmer gently for about 30 minutes until onions are soft and mixture has thickened and started to caramelize. Stir in vinegar, if desired. Remove from heat and let cool, stirring from time to time.
Spoon into a jar or other container. Will keep for at least a week in the refrigerator.
Making the Meatloaf Sliders with Bacon Jam:
Preheat oven to 400°F.
Slice bread in half lengthwise and lay on a baking sheet or roasting pan.
Spread each half with a little mayonnaise.
Spread some bacon jam on the bottom half and sprinkle the top half with Parmesan.
Place meatloaf slices on another baking sheet.
Place both pans in the oven and heat for about 5 minutes, or until cheese is melted and starting to turn golden brown.
Remove bread and meatloaf from oven, then place slices of meatloaf on the bottom half of the bread and top with the other half. Cut in half if using larger pistolettes.
Can be made in advance and kept warm in a low-heat oven, covered with a clean, damp kitchen towel.
Join our
family
Bring a little spice to your email inbox with Tony Chachere's Creole Club!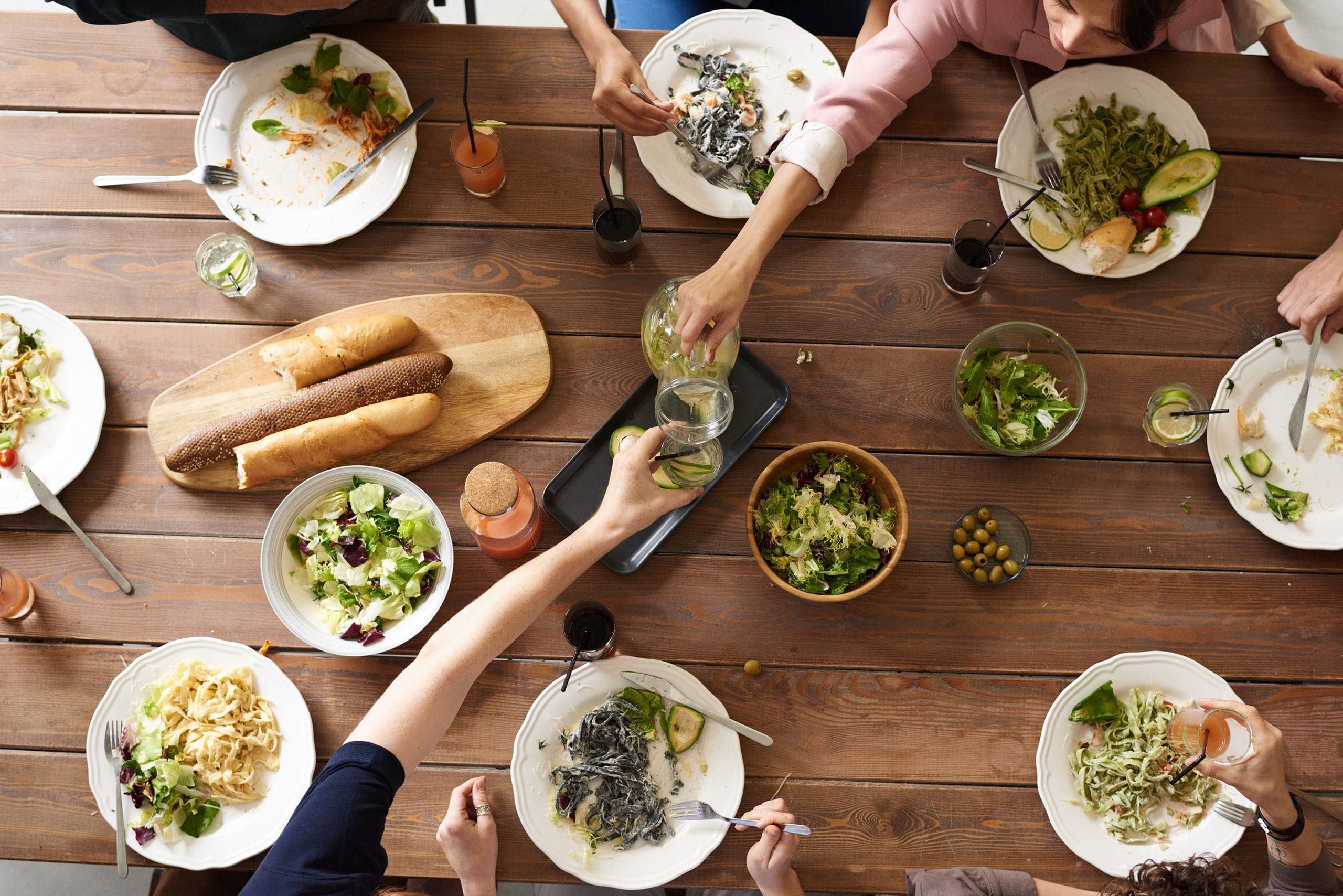 from our
Cajun Country Cookbook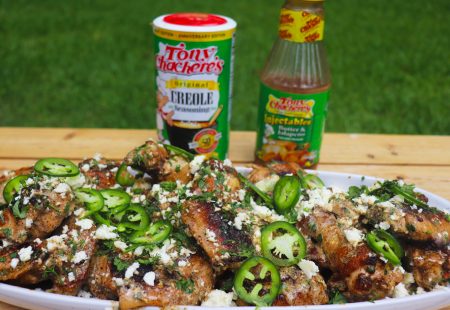 Creole-Elote Style Party Wings
@flychefaldenb takes all of the flavoring of Mexican street corn and turns it into a Creole-style…
Get Recipe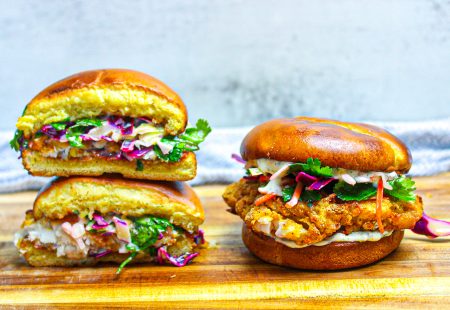 Air Fried Catfish Sandwich
Let the good times roll into your next BBQ or picnic with this Air Fried Catfish…
Get Recipe