Italian Chicken Breast with Creole Tomato Sauce and Artichoke Bread Pudding
The flavors of Italy combine with Creole seasoning for this amazing chicken dinner! Two-time James Beard Award-winning Chef Susan Spicer takes this meal up a notch by bringing the chicken together with a flavorful Creole Tomato Sauce and Artichoke Bread Pudding. You will impress your family and friends with every bite!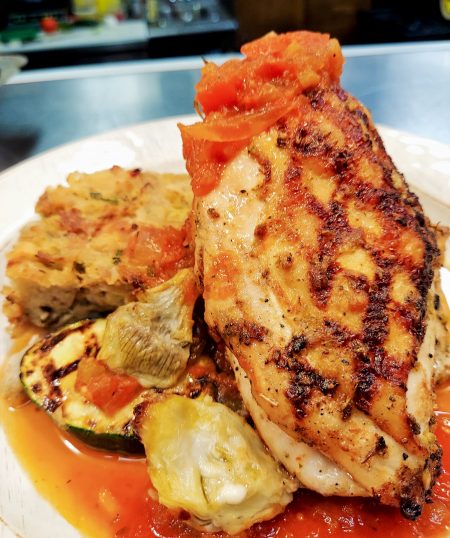 Shop Tony's Flavors In This Recipe
Ingredients
8 Cups Stale Bread, Torn or Cut Into Cubes

2 Tablespoons Olive Oil

2 Tablespoons Butter

1 Cup Onion, Diced

1/2 Cup Celery, Diced

1 Teaspoon Garlic, Minced

2 Teaspoons Tony's Spice N' Herbs Seasoning

2 Cups Artichoke Hearts, (Frozen or Canned) Thawed and Roughly Chopped

3 Cups Chicken Broth

2 Eggs, Lightly Beaten

2 Tablespoons Herbs (Parsley, Thyme, Dill, and/or Basil), Chopped

2 Tablespoons Olive Oil

2 Cups Onion, Diced

1 Cup Green Bell Pepper, Diced

1/2 Cup Celery, Diced

1 Tablespoon Garlic, Minced

3 Cups Crushed Tomatoes

1/2 Cup Tomato Paste

2 Cups Chicken Broth, or Water

1 Cup Tony's Bloody Mary Mix

1 Teaspoon Dried Oregano

2 Bay Leaves

Fresh Basil (Optional)

4 Chicken Breasts (Skin On or Off, as Preferred)

1/2 Cup Tony's Creole-Style Italian Salad Dressing

1/2 Teaspoon Garlic, Minced

1 Teaspoon Rosemary (Fresh or Dried), Chopped

Parmesan Cheese (Optional)
Directions
Making Artichoke Bread Pudding:
Preheat oven to 350°F.
Place bread cubes into a large bowl or container.
Heat olive oil and butter in a large skillet and when melted, add the onion, celery, garlic and Tony's Spice N' Herbs Seasoning. Cook, stirring for about 5-7 minutes until the vegetables are tender.
Stir in artichoke hearts and cook for about 5 more minutes, then add chicken stock. Stir and bring to a boil. Then pour everything over the bread cubes and still well, making sure the bread soaks up the liquid and starts to break down.
Let cool for about 10 minutes, then stir in the beaten eggs. Mixture should not be dry or soupy, but moist with the bread holding some of its shape.
Stir in the chopped herbs. Then pour into an oiled loaf pan and bake for 20 minutes until puffy, golden brown and cooked in the center.
Let cool and cut into portions. You will have some leftover.
Making the Creole Tomato Sauce:
Heat oil in a 2-quart saucepan and when simmering, add the onions, bell pepper and celery. Stir and cook over medium-low heat for about 7 minutes, until vegetables just start to color.
Add in the garlic, oregano and bay leaves and cook another 2 minutes, than add in crushed tomatoes, tomato paste, chicken broth and Tony's Bloody Mary Mix. Stir well to incorporate the tomato paste and then bring mixture to a boil. Lower the heat and simmer gently for at least 30 minutes.
When the sauce tastes rich and flavorful, stir in the fresh basil and keep sauce warm until ready to serve, or refrigerate for later. You should have about 1 quart of sauce.
Making the Chicken:
Place two chicken breasts in a large plastic freezer bag and pound with a meat mallet to an even thickness. Remove from bag and repeat with the other two breasts.
Mix together the Tony's Italian Salad Dressing, garlic and rosemary in a small bowl.
Return all chicken breasts to the bag and pour in the marinade. Refrigerate for about 30 minutes, then remove chicken and strip off the excess marinade.
Grill chicken over medium-hot coals, skin side down, for about 6-7 minutes, then turn and finish cooling on the other side for about 3 minutes. You could also place the chicken on a baking pan and roast in a preheated 400°F oven for about 12 minutes.
Once cooked and you are ready to serve, arrange one piece of warm Artichoke Bread Pudding on a plate and lean a chicken breast against it. Then spoon Creole Tomato Sauce over both. Garnish with freshly grated Parmesan cheese or more basil, if desired.
Join our
family
Bring a little spice to your email inbox with Tony Chachere's Creole Club!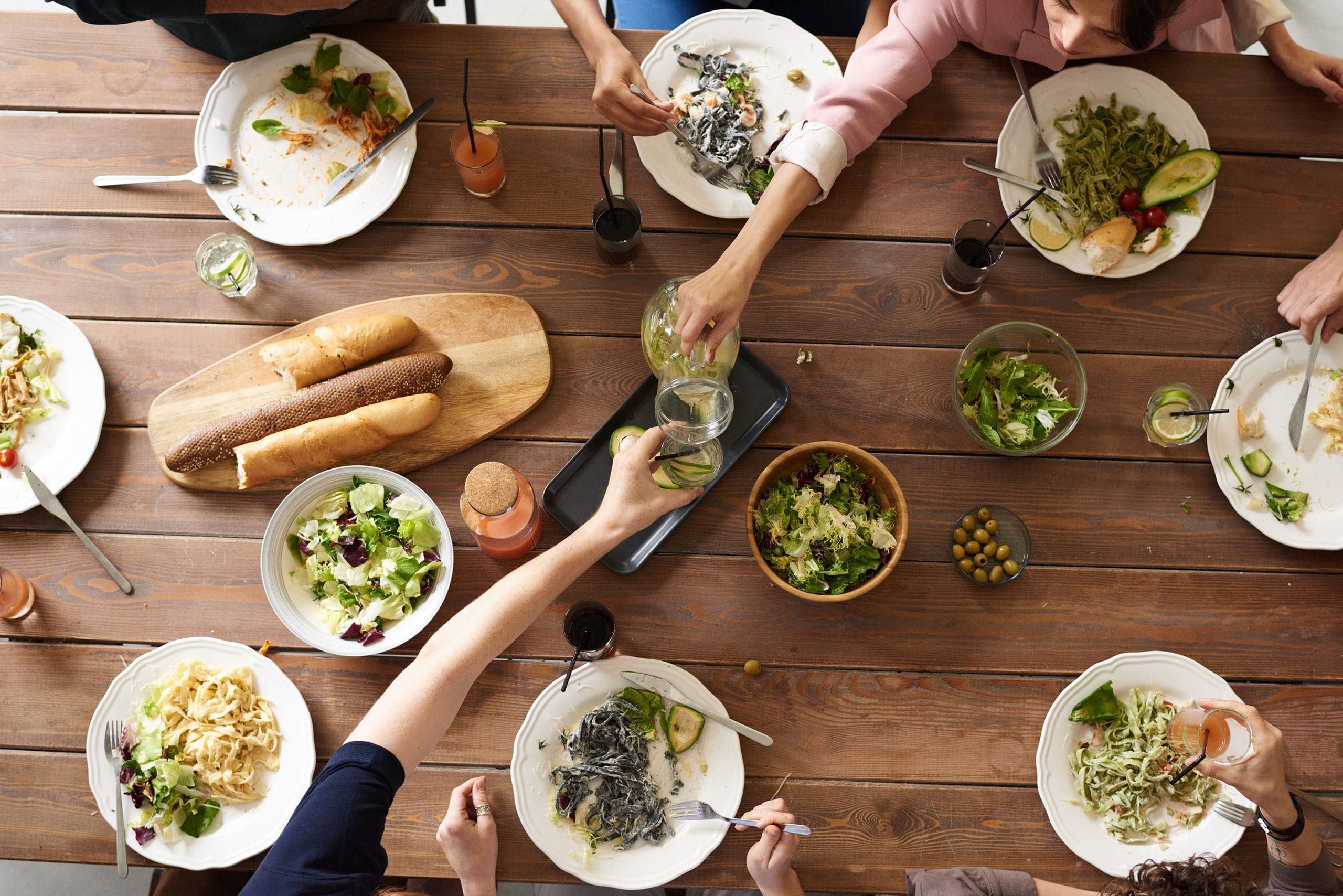 from our
Cajun Country Cookbook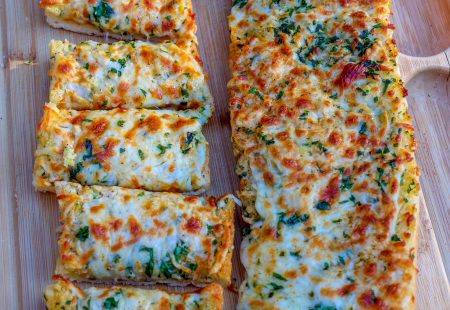 Seafood Boil Garlic Bread
Creamy, crunchy, and creole! The way @flychefaldenb just put all other garlic bread to shame with…
Get Recipe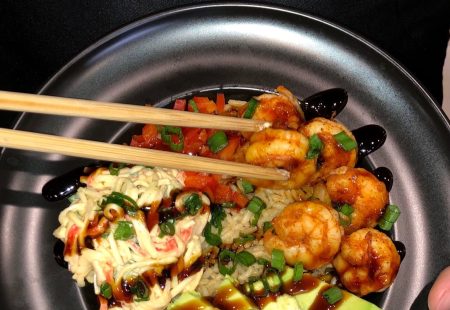 Creole Poke Bowls
We love how @capt.cooking gave this fan-favorite a creole twist! These Creole Poke Bowls are bold,…
Get Recipe