Cajun Strawberry & Chicken Salad
With chicken marinated in Tony's marinade, fresh strawberries, mozzarella pearls, avocado, roasted walnuts, fresh basil and delicious Tony's French Dressing, this strawberry and chicken salad by Key to My Lime is a mouthwatering flavor combination, perfect for the spring and summer.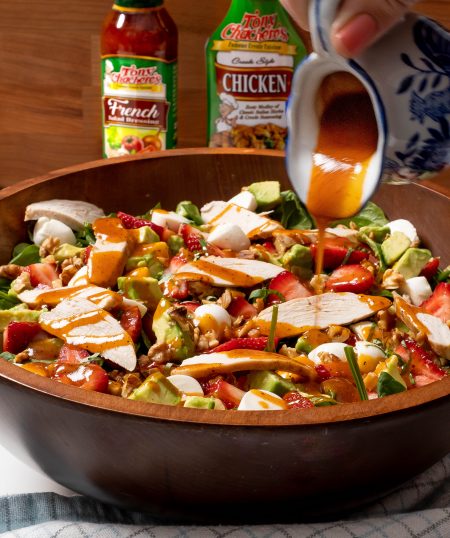 Shop Tony's Flavors In This Recipe
Ingredients
2/3 Pound Boneless Skinless Chicken Breast (About 1 Large Chicken Breast)

1/3 Cup Tony's Creole-Style Chicken Marinade

1/2 Cup Raw Walnuts

1 Pound Small Strawberries, Halved

1 Cup Mini Bocconcini (Mozzarella Pearls), Halved

1 Avocado, Cubed

20 Medium Basil Leaves, Cut into Thin Strips

8 Ounces Fresh Baby Spinach, Washed and Dried

1/2 Cup Tony's Creole-Style French Salad Dressing
Directions
Place the chicken breast on a cutting board. Place your non-dominant hand flat on the chicken, and use the other hand and a sharp knife to slice through the thick side of the chicken. I normally end up with two large pieces and one small piece per chicken breast. Place the chicken pieces in a bowl, then pour the Tony's Chicken Marinade over the chicken, making sure the marinade is coating all sides of the chicken. Cover the dish, then let it rest in the refrigerator for 30 minutes, or longer for a more intense flavor.
Preheat the oven to 350°F.
Roughly chop the walnuts and bake on a rimmed baking sheet in the preheated oven for 6 minutes, or until toasted. Be sure to keep an eye on them, because nuts go from toasted to burnt quickly.
Turn the oven up to 450°F.
Bake the marinated chicken on a parchment paper-lined rimmed baking sheet in the preheated oven for 12-14 minutes. The time will vary based on the thickness of the chicken, so it's important to check the internal temperature of the chicken with an instant red meat thermometer (it should read 165°F). Once the chicken reaches 165°F internally, remove it from the oven and transfer it to a clean plate, then loosely tent it with aluminum foil to rest for 5-10 minutes. Once the chicken has finished resting, slice it into thin strips.
While the chicken rests, prepare the rest of the salad.
Wash and dry the strawberries, then remove the stems and cut the strawberries in half lengthwise.
Stack the basil leaves on top of each other. Roll the stack of basil leaves into a tight cylinder, then cut the leaves into thin strips.
To a large salad bowl, add the baby spinach, halved strawberries, halved mini bocconcini, avocado cubes, basil leaf strips, sliced chicken, and the toasted walnuts.
Pour the Tony's French Dressing over the salad, serve and enjoy!
NOTES:
Using air-chilled chicken will release less moisture while baking, leaving you with a juicier cooked chicken breast.
Join our
family
Bring a little spice to your email inbox with Tony Chachere's Creole Club!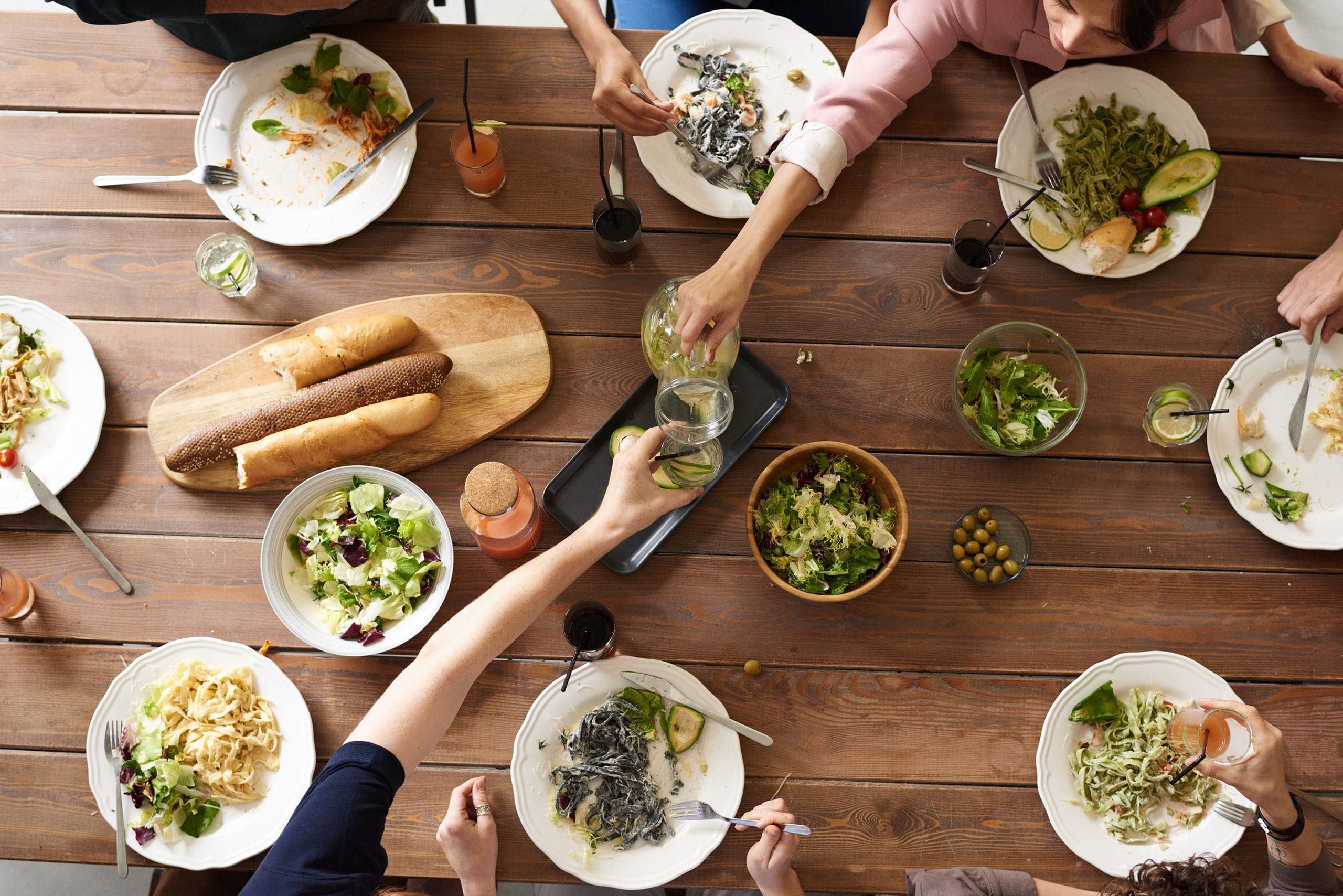 from our
Cajun Country Cookbook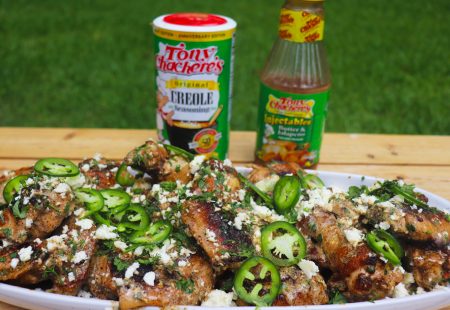 Creole-Elote Style Party Wings
@flychefaldenb takes all of the flavoring of Mexican street corn and turns it into a Creole-style…
Get Recipe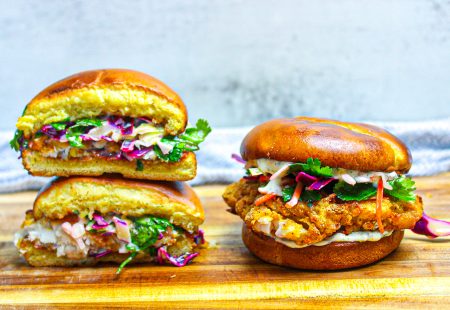 Air Fried Catfish Sandwich
Let the good times roll into your next BBQ or picnic with this Air Fried Catfish…
Get Recipe