Breakfast Pizza with Country Gravy
Pizza for breakfast is pretty common – head to fridge and pull out leftover slices from the night before. But, now there is a new way to eat pizza for breakfast! This Breakfast Pizza with Country Gravy by In Fine Taste is full of buttery, garlic and Creole herb flavors with bacon eggs and cheesy … it's everything you want in a breakfast pizza!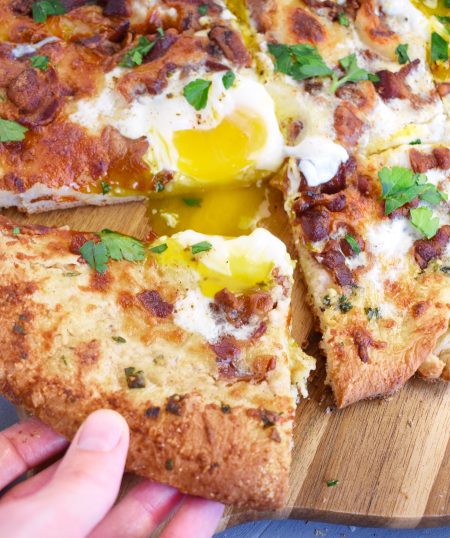 Shop Tony's Flavors In This Recipe
Ingredients
3/4 Cup Warm Water

1 1/2 Teaspoons Active Dry Yeast (Instant Yeast Will Also Work)

1 1/2 Teaspoon Sugar

1 Tablespoon Olive Oil

1 3/4 Cups Flour, Plus Extra for Kneading Dough

Cornmeal

1 1/2 Tablespoons Butter or Grease Reserved from Frying Bacon

1 1/2 Tablespoons Flour

1 Cup Whole Milk

1/4 Teaspoon Tony's Spice N' Herbs Creole Seasoning

1/8 Teaspoon Tony's Spice N' Herbs Creole Seasoning

3 Tablespoons Melted Butter

3 Tablespoons Parmesan Cheese

2 Cloves Garlic, Minced

2 Tablespoons Italian Parsley, Finely Chopped

3 Eggs

8 Slices Bacon, Cooked

1 – 1 1/2 Cups Mozzarella, Shredded

Italian Parsley, Finely Chopped

Tony's Spice N' Herbs Creole Seasoning, to Taste
Directions
Making the Pizza Dough:
In a large mixing bowl, combine warm water, sugar and yeast. Let mixture stand for 5-10 minutes until completely dissolved and yeast is beginning to bubble. Stir in 3/4 cup flour with a wooden spoon. Then gradually add 1 more cup of flour until the dough starts to ball up. The dough should be soft and sticky. If the dough is too wet, add another tablespoon or 2 of flour. Tip the dough onto a lightly floured surface and sprinkle flour on top. Knead for 5 minutes.
Coat your previously used bowl with olive oil. Shape your dough into a ball and place into the bowl. Pull a large piece of plastic wrap out and spray it with cooking spray. Cover the top of the bowl with the plastic wrap, cooking spray side down. Place in a warm place to rise for 1-2 hours until doubled in size.
While your pizza dough is rising, fry your bacon and make your country gravy.
Making the Country Gravy:
In a medium saucepan over medium heat, add your butter until melted. Whisk in your flour and brown the two together for 1-2 minutes. Then whisk in your milk, until there are no lumps. Add in your Tony's Spice N' Herbs Creole Seasoning.
Continue to cook until your gravy is thick, then remove from heat.
Making the Breakfast Pizza:
After dough has doubled, knock the air out of the dough. Knead a couple of times until the dough tightens up a little bit. Divide the dough in half and shape into 2 balls. Place back into the bowl, recover with plastic wrap and let rest for 15 minutes.
Preheat oven to 475°F. Take your baking sheet or pizza stone and coat with cooking spray or olive oil. Sprinkle cornmeal over baking sheet or pizza stone (this give the pizza an extra crunch and texture – don't skip it!).
Tip dough onto lightly floured surface and using a rolling pin, roll into 12-inch circle. Transfer dough to baking sheet or pizza stone. Turn edge of dough in a bit and pinch to create a crust.
In a small bowl, mix the melted butter, Parmesan cheese, garlic and Italian parsley. Using a pastry brush, or spoon, coat the pizza crust with the mixture.
Sprinkle crust with additional cornmeal. Prick the pizza crust with a fork a few times to prevent bubbles from forming.
Top your pizza with the Country Gravy, mozzarella and bacon. Bake for 6 minutes then remove from oven.
Use the back of a spoon to create 3 small wells for your eggs. Crack your eggs, placing one egg in each well. Sprinkle on a little more Tony's Spice N' Herbs Creole Seasoning and place back in the oven.
Remove from oven and top with freshly chopped Italian parsley, slice pizza and serve.
NOTES:
All-purpose flour is used in this recipe, for a chewier crust, but for a super crispy crust, use bread flour.
Turn the oven to 170°F while mixing up the dough. When dough is placed in bowl and covered to plastic wrap, turn the oven off and place the bowl in the oven to rise.
Join our
family
Bring a little spice to your email inbox with Tony Chachere's Creole Club!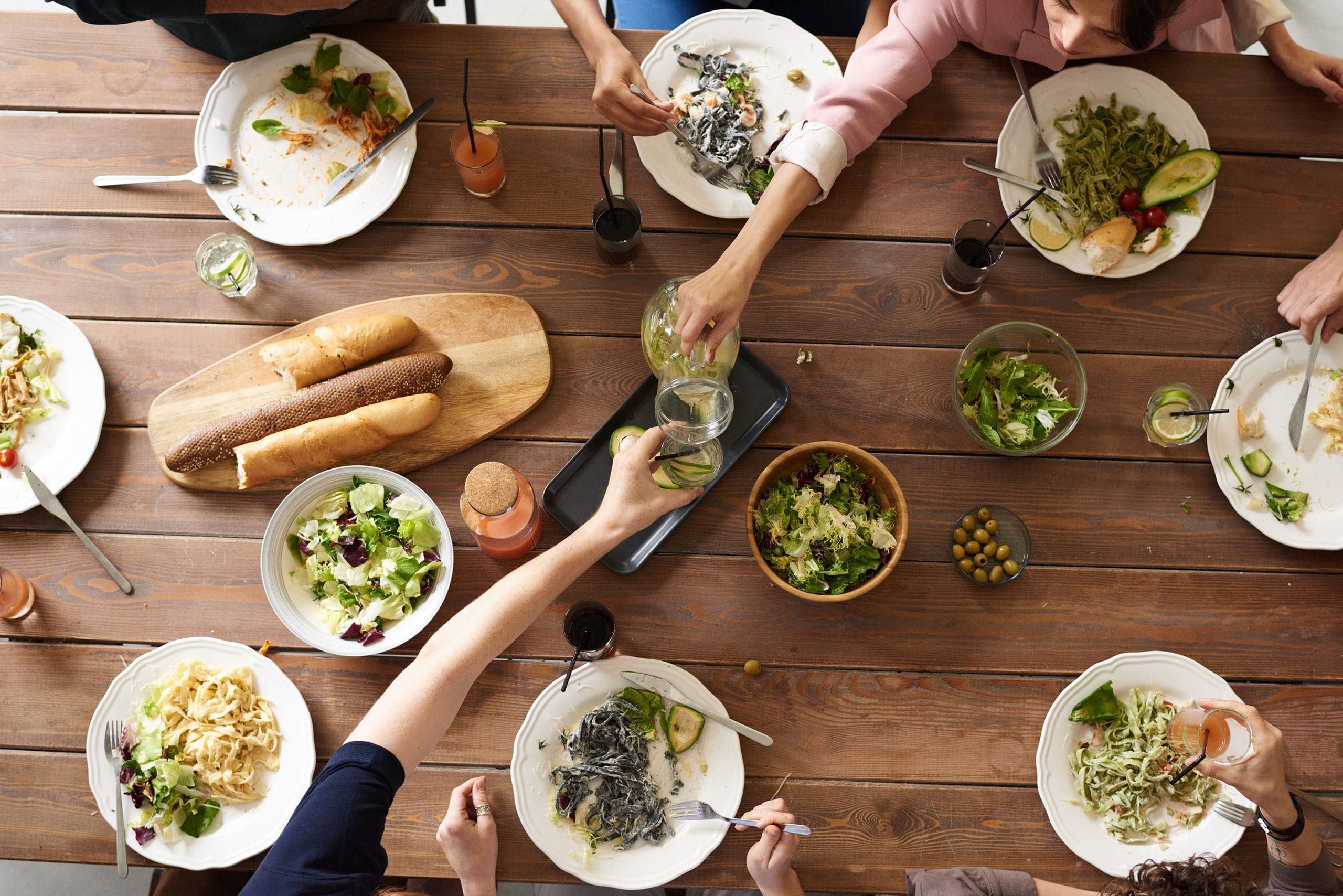 from our
Cajun Country Cookbook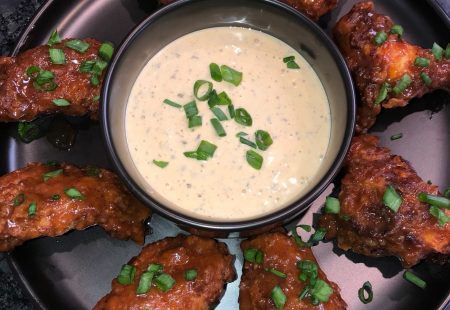 Creole BBQ Chicken Wings
Whether for your next backyard BBQ, picnic or tailgate, take your wings game to the next…
Get Recipe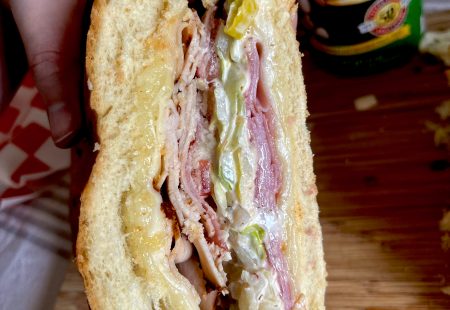 Cajun Grinder Salad Sandwich
The iconic TikTok Grinder Salad Sandwich has finally made its way to Tony Chachere's, and @eatforcheap puts the…
Get Recipe